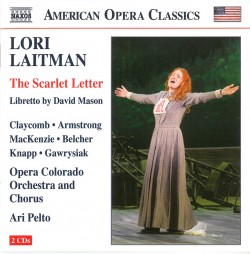 Lori Laitman – The Scarlet Letter
Claycomb; Armstrong; MacKenzie; Belcher; Knapp; Gawrysiak; Opera Colorado; Ari Pelto
Naxos 8.669034-35
Nathaniel Hawthorne's classic American novel, abridged into libretto form by David Mason, premiered in 2016 as a two-act opera composed by Lori Laitman. Strict and stifling moral codes in a c.1600 Puritan community result in the punishment of young Hester Prynne and torment the secret father of her child, Reverend Arthur Dimmesdale, as well as her long-lost husband (now returned under an assumed name). Operatic fodder indeed, but strangely juxtaposed with a rather dismal and restrictive setting.
Laitman's challenge as a composer to reconcile the two is an interesting conundrum. She does indeed provide highly dramatic moments, such as the crowd's raging at Prynne and the taunting of Dimmesdale by Mistress Hibbons, the town witch (sung by the formidable mezzo Margaret Gawrysiak). As Dimmesdale, tenor Dominic Armstrong's talents are showcased with long, dramatic episodes of hysteria and guilt. Also remarkable is baritone Malcolm MacKenzie, as the husband bent on revenge. Prynne, on the other hand, proving to be much more stalwart of character, is given a much calmer, gentler musical portrayal. Soprano Laura Claycomb shines in the lullaby sung to daughter Pearl; as a singer, she manages some amazingly high notes without ever sacrificing Prynne's aura of tenderness. The Opera Colorado Chorus does an excellent job standing in judgement of all. An interesting project indeed and well executed.