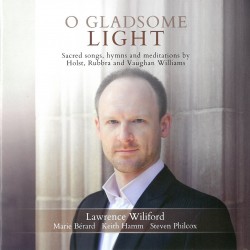 O Gladsome Light
Lawrence Wiliford; Marie Bérard; Keith Hamm; Steven Philcox
Stone Records 506019278065 (stonerecords.co.uk)
That tenor Lawrence Wiliford's voice is perfectly suited to English repertoire is clearly illustrated on this recording. In songs and hymns by Gustav Holst, his lesser-known student Edmund Rubbra and contemporary Ralph Vaughan Williams, Wiliford displays his gift for expressiveness, sensitivity to text and challengingly high tessitura. These qualities were assimilated through his experiences singing in the church since boyhood, roles in Canadian Opera Company productions and as co-founder of the Canadian Art Song Project along with pianist Steven Philcox (who also accompanies beautifully on this recording).
Because Rubbra is relatively unknown, we are grateful for the singer's inclusion of transcendent modal songs such as The Mystery and Rosa Mundi as well as Meditations on a Byzantine Hymn for solo viola played sublimely by Keith Hamm and Variations on a Phrygian Theme for solo violin on which Marie Bérard displays her signature sweetness of tone. (Both Hamm and Bérard are members of the COC orchestra.) Also of note from Rubbra is Hymn to the Virgin and Jesukin. Upon first hearing, I spent several minutes searching through liner notes for the name of the harpist. In fact, Rubbra had cleverly composed his accompaniment by the use of spread piano chords, resulting in a "harp-like rendition" played so rockingly gentle by Philcox that one is easily lulled and thus bewildered, but happily so.