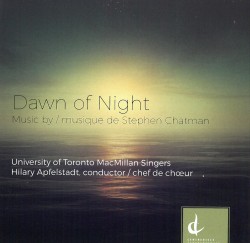 Stephen Chatman – Dawn of Night
University of Toronto MacMillan Singers; Hilary Apfelstadt
Centrediscs CMCCD 24617
(musiccentre.ca)
As a choral singer, I have always enjoyed the works of Stephen Chatman. Infusing softness of tone with luscious harmonies, his music always sounds deceptively simple, yet, as both he and conductor Hilary Apfelstadt point out, it requires a fair amount of preparation for a chorus to get it right. After all, the heartfelt texts Chatman chooses, such as those by Sara Teasdale, Walt Whitman, Christina Rossetti and poet/wife Tara Wohlberg, require an elegant and sensitive touch, which he applies with great care in order to enhance the essential meaning.
The benefit of collaborating with Chatman, who worked as co-producer of this recording, clearly shows in the exquisite performance by the MacMillan Singers led by Apfelstadt. For pieces using piano, Laura Dodds-Eden provides a vibrant and robust accompaniment. There is also in these pieces beautiful writing for other instruments; for example, poignant trumpet interludes played by Anita McAlister in Reconciliation (from Whitman's Drum Taps), gorgeously pulsing harp and intoning cello provided by Angela Schwarzkopf and Jenny Cheong in Dawn of Night, and Clare Scholtz's soaring oboe in June Night and Dreams Offer Solace. Recorded at Toronto's Grace Church on-the-Hill, this recording must have truly been a labour of love for students and mentors alike.