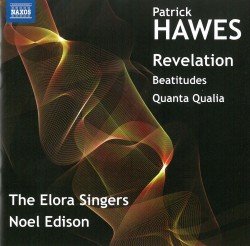 Patrick Hawes – Revelation; Beatitudes; Qaunta Qualia
Elora Singers; Noel Edison
Naxos 8.573720
Patrick Hawes is a modern British composer and organist living on the Norfolk coast, whose compositions are inspired by nature, literature and his deep Christian faith. His approach to choral music, at least in this recording, is sublimely gentle and tonal. Even with a subject matter such as the Book of Revelation, he eschews such fiery terrors as the "four horseman of the apocalypse" and the "gnashing of teeth," instead selecting verses that convey anticipation, awe and reverence. Although there are flashes of drama in the antiphonal section Coming with the Clouds and flashes of lightning and thunder appear in From the Throne, the overall impression conveyed in the scoring of this lovely a cappella setting inspires rather than terrorizes. The voicings in Epilogue: The Alpha and the Omega are both mystical and jubilant.
Following this work is Hawes' setting of The Beatitudes, transcendently peaceful with music that provides a soothing balm equal to the text. The piano accompaniment performed by Leslie De'Ath is beautifully subtle in its support of the voices. Another notable accompaniment is John Johnson's alto sax on one of the five stand-alone choral works, Quanta Qualia. This time, the instrumental part is written as a blissful voice to enhance and highlight some ecstatic soprano passages. The Elora Singers deliver a pure and flawless performance in this collection of heavenly works.