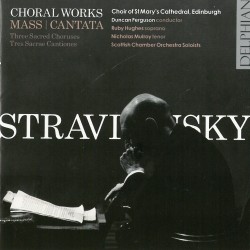 Stravinsky Choral Works – Mass; Cantata
Choir of St Mary's Cathedral, Edinburgh; Duncan Ferguson
Delphian DCD34164
(delphianrecords.co.uk)
This CD comprises works Stravinsky wrote after he was Orthodoxically reborn in 1926. The discretely composed parts of the Mass run from celebratory to sparse, and even the two Credos are contradictory: one is stalwart and modern, the other urgent and sounding slightly more like traditional English church music. The Choir of St. Mary's Cathedral is joined by youngsters from the dedicated choir school, as the composer had intended the Mass to be sung. The blend is wholesome.
The Cantata is based on Middle English songs on Christian themes but likely with secular origins. Soloists Ruby Hughes' and Nicholas Mulroy's voices complement each other and so in turn do the choral Versus refrains of A Lyke-Wake Dirge, which recount the voyage of the dead from Earth to purgatory. The setting of Tomorrow Shall Be My Dancing Day was new to me, as was the controversy of the inclusion by Stravinsky of the anti-Semitic middle verse, which is outlined in the liner notes.
The a cappella Tres Sacrae Cantiones, some of the partially lost pieces of late-Renaissance composer Carlo Gesualdo, were "finished off" by Stravinsky, at a safe remove of 300 years!
Duncan Ferguson deftly conducts Scottish Chamber Orchestra soloists so that the two larger pieces are accompanied in the truest sense of that word; they go alongside their singing companions rather than merely support them. This would be a lovely addition for collectors of Stravinsky, jack-of-all-eras.