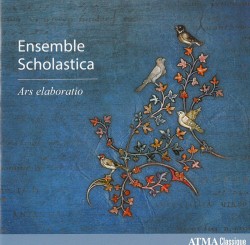 Ars elaboratio
Ensemble Scholastica
ATMA ACD2 2755
These days, the kids call them remixes, but in the hands of musicologist Rebecca Bain, the music on Ars elaboratio is the product of taking plainchant and adding tropes from other sources to create new versions. This was not unheard of in the millennium that was not litigious about intellectual property and it was common because of a more flexible and oral, rather than notated, tradition of handing music down. Think of this as more serious Mediæval Babes repertoire with scholastically informed liberties, which in that era were called elaborations.
The result is litanies, antiphons, poetry and scripture that are often mesmerizing and calming, especially with the addition of symphonia or, in the instrumental version of Claris vocibus, of organetto, a portable precursor to the pipe organ, played with one hand on the keyboard and the other working the bellows. The medieval pronunciation charmed this Latinist, although I may have heard some elision, as in spoken Latin poetry recitation, which may throw some listeners. And there are spots in the CD booklet that omit the original liturgical text that is discussed (e.g. the melisma on "mulierum" in Velox impulit) so that only the tropes can be followed, if that is your wont.
The fascinating background to some of the elaborations contains some ballsy feminist stuff (praise of the chastity of innocent virgins aside), such as the one in Dilexisti iustitiam, in which St. Catherine of Alexandria kicks some male philosophical-debate butt. The approachable narrative in Sancti baptiste of "amice Christi Johannes" ([O] John, friend of Christ) reflects the presumed (relative) egalitarianism of the coeducational abbey of St. Martial de Limoges in the 1100s.
The acoustics of the Chapelle Notre-Dame-de-Bon-Secours in Old Montreal lend themselves to a lovely presentation of the organic nine-voice Ensemble Scholastica. Hildegard of Bingen must be pumping her fist in coelis.