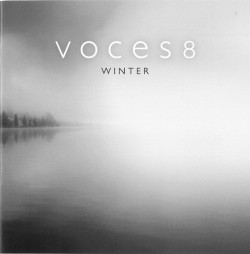 Winter
Voces8
Decca 483 0968
Review
The cover art of Voces8's Winter accurately represents this gorgeous, chill compilation of choral pieces written and arranged by composers from countries of Northern climes. There's an ethereal quality to the recording that evokes the Aurora Borealis, such as in the first track, Arnalds and Arnarson's For Now I Am Winter.
And while the season pervades the album's themes, there's a lot of variety. Es ist ein Ros entsprungen is like a slo-mo version of the Praetorius standard, and the Balulalow text, written by the three 16th-century brothers and poets, the Wedderburns, is nothing like Britten's version: where the Ceremony of Carols setting swells like waves off the North Sea coast, this one glides along like cross-country skis. Of course, my hero Pärt's Nunc Dimittis is divine, as is Rachmaninoff's Vespers. There's harp accompaniment with a touch of the medieval in the traditional The Snow It Melts the Soonest, and the countertenors in Rebecca Dale's premiere, Winter, reminded me of those in the Talla Vocal Ensemble. Ola Gjeilo offers up a Holst-based In the Bleak Midwinter, and it's not so Christmasy that you can't enjoy it now.
Perhaps most interesting are the featured Vasks pieces: three Plainscapes movements and The Fruit of Silence, the text of which was penned by Mother Teresa. All four convey the Latvian composer's concern for and focus on environmental issues. This is a simply lovely, contemplative mood-setting release, with pristine choral and instrumental blending.