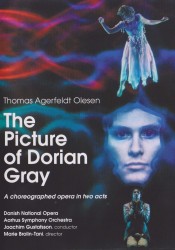 Thomas Agerfeldt Olesen – The Picture of Dorian Gray
Radley; Best; Bobby; Thiele; Hansen; Vinther; Skarby Riddell; Chorus of the Danish National Opera; Aarhus Symphony Orchestra; Joachim Gustafsson
Dacapo 2.110415
The ideas behind this DVD made me curious because, as a longtime operagoer, I wondered how you could have an opera choreographed and with the singers offstage. The Picture of Dorian Gray succeeds on both counts and throws in more appealing aspects to boot.
The Oscar Wilde story is rife with juicy themes around secrets, corruption, the role of art and, of course, the Mephistophelian premise of Dorian Gray selling his soul in exchange for eternal beauty and youth. The production of Thomas Agerfeldt Olesen's opera has plenty of eye and ear candy that doesn't discombobulate the viewer with unstaged singers as much as highlight them. Cutaways to singers in the orchestra pit are as intriguing as Met in HD backstage entr'actes. The transformation of the picture of Dorian Gray is effectively conveyed with video art, replacing the need for extensive set use, and the costumes range from modified period pieces to something out of Cirque du Soleil.
Although I don't have much knowledge of dance, I could appreciate this non-literal interpretation of the tale, which shared the dual role of representing the characters' sung parts, which was stage director/choreographer Marie Brolin-Tani's goal. Surprisingly, spoken lines and frequent Broadway-musical-like interludes did not make me protest that this was not opera. The entire production somehow coalesces into a new multi-art genre, and whether that is due to the direction, choreography, score, artists or all of those, it was the type of offering CanStage might co-present. Hmm – must text Matthew Jocelyn…