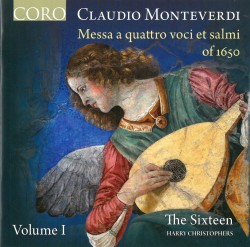 Monteverdi – Messa a quattro voci et salmi of 1650 Volume 1
The Sixteen; Harry Christophers
Coro COR16142
Seven years after Claudio Monteverdi's death, the publisher Vincenti, with help from Monteverdi's pupil Francesco Cavalli, put together a volume of the composer's unpublished works, consisting of Mass and Psalm settings, to which they added a work of Cavalli's own. In this first volume of two devoted to this 1650 publication, Harry Christophers focuses on the salmi (psalms), his Beatus vir and Cavalli's Magnificat, saving the Messa a quattro voci for the second volume. The psalm settings are characteristic of the gorgeous, rich harmonies, with just a smattering of highly affective dissonance; innovations resulting from the transition from renaissance to baroque that Monteverdi pioneered through his long compositional career.
Harry Christophers and The Sixteen understand the repertoire well and perform the many affectations and embellishments with great beauty and exceptionally polished skill. For example, the polyphonic five-voice setting of Psalm 121, Laetatus sum (I was glad when they said unto me) is highly virtuosic and contrasts nicely with the six-voice, more declamatory Laetaniae della Beata Vergine (Litany of the Blessed Virgin) in which Mary's many virtues are presented as somewhat of a list, but so meditative that one never feels even a hint of monotony in the repetition. With beauty such as this, Volume II is keenly anticipated.