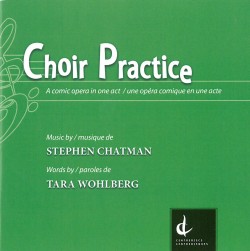 Stephen Chatman; Tara Wohlberg – Choir Practice
University of British Columbia Opera Ensemble; Nancy Hermiston; UBCSO; Jonathan Girard
Centrediscs CMCCD 22616 (musiccentre.ca)
Anyone involved in community choirs will appreciate this lighthearted parody of the personalities we both encounter and display during rehearsals; from establishing a pecking order amongst ourselves to our complicated relationships with music directors, for better or worse. Stephen Chatman, well familiar with the milieu, and his writing partner Tara Wohlberg exaggerate the dynamic hysterically in this one-act opera, premiered and recorded at the University of British Columbia.
Under the direction of faculty members Nancy Hermiston and Jonathan Girard, the opera ensemble and instrumentalists clearly enjoy quite a lark with the performance, producing dissonant chaos, artless arpeggios and pursuing their own agendas with opinions on repertoire, with a liberal sprinkling of famous musical snippets from favourite pieces that serve as insider jokes for the audience as they recognize quotes from Mozart, Wagner and Philip Glass. Sexual innuendo and double entendre abound as well, in ridiculous manifestations with appearances from characters such as the clown, the diva, the belly dancer and the stutterer. Of course, eventually, out of the cacophony and bad behaviour, conductor "Willy Stroker" patiently coaxes out a harmonious and unified performance with the help of one of his more "visionary" choristers. Simple, unabashed fun and slapstick entertainment.