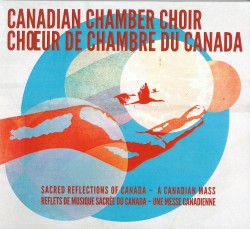 Sacred Reflections of Canada – A Canadian Mass
Canadian Chamber Choir; Julia Davids
Independent (canadianchamberchoir.ca)
The working style of the Canadian Chamber Choir is unique; with members spread across the country, they convene at least twice a year for short projects after learning their parts at home. A rehearsal period of a few days is hosted by a school, choir or community and the choir then returns the favour by providing workshops before they embark on tour. Their mandate, therefore, is not just to perform, but to build community by educating and engaging as many singers as possible on each tour while introducing the works of established as well as emerging Canadian composers.
This recording, nominated for the 2016 JUNO Awards Classical Album of the Year, is organized into the format of a mass, incorporating 19 works by 17 Canadian composers. Amongst the five movements of the Mass Ordinary (Kyrie, Gloria, Credo, Sanctus and Agnus Dei) are interspersed a number of other reflective sacred pieces in exquisite a cappella renderings. For example, composer-in-residence Jeff Enns' O magnum mysterium begins with the purist soprano solo by Megan Chartrand; Robert Ingari's beautiful and rich setting of Ave Maria is contrasted by another, mysterious and dissonant, by James Fogarty. Director Julia Davids has chosen the pieces well, and woven the parts into a flowing and cohesive whole, whilst directing the itinerant choir in a stunning performance.