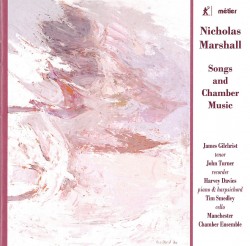 Nicholas Marshall – Songs and Chamber Music
James Gilchrist; Various Artists; Manchester Chamber Ensemble
Metier msv 28552 divineartrecords.com
This CD showcases songs and instrumental music by British composer Nicholas Marshall, born in the 1940s and still busily at work today. Marshall's musical influences and talents are many and varied, and while certainly having his own inventive voice he follows in the musical footsteps of Warlock, Delius, Vaughan Williams and Sir Lennox Berkeley, with whom he also studied. The disc opens with The Birds, a song cycle of poetry by Hardy, Belloc, Yeats and others set beautifully for tenor voice, recorder and piano. A brief but evocative Plaint for cello and piano precedes The Falling of the Leaves, another cycle set for tenor voice, alto recorder, cello and harpsichord on six poems by Yeats. The balance between all three voices is delicately well struck, in the writing as well as in performance; tenor James Gilchrist sings exquisitely, and Harvey Davies sounds equally at home on both harpsichord and piano.
Other songs on the program feature the poetry of James Reeves (Music in the Wood) and G.K. Chesterton (Three Short Songs), very deftly matched in character and spirit by Marshall's writing. Two pieces for recorder and string quartet round out the program: Marshall's Recorder Concerto, of which the slow movement is particularly beautiful, and The Nightingale, a short and sweet fantasia on a Welsh folk song. These are played with attentive affection and deserve more attention from other recorder players out there!