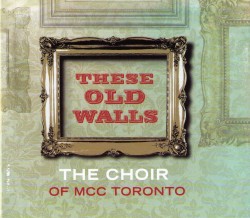 These Old Walls
The Choir of MCC Toronto
Independent (www.mcctorontochoir.com)
It is a joy to hear a group with so much heart, energy and enthusiasm as this 50-voice community choir based at the Metropolitan Community Church of Toronto and led by Diane Leah. This is the same choir who gave Jack Layton such a wonderful send-off last year at the public celebration of his life. In fact, listening to this recording, I was struck with an incredible feeling that love, hope, healing and reconciliation are truly at the heart of this community.
This choral collection of hymns, anthems, spirituals and popular songs is nicely complemented with the addition of soulful singer Stephanie Martin, cellist Amy Laing and bassist George Koller with Tom Jestadt and Paul Ormandy, drums/percussion, and Colleen Allen on sax/flute. Also adding to the musical interest are breakout groups from within the choir who've chosen some good numbers and great names: Pride & Joy singing the title track, Tet'atet with All through the Night and the A-Men performing Billy Joel's Lullabye (Goodnight, my Angel). And it's not often one gets to hear a Cuban folk song like Son de Camaguey in the same program as call & response song John the Revelator, a piece so rousing that one might very well have to mind These Old Walls lest they come tumbling down!