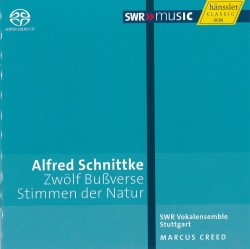 Schnittke – Zwölf Bussverse; Stimmen der Natur
SWR Vokalensemble, Stuttgart; Marcus Creed
Hänssler Classic 93.281
The Vocal Ensemble Stuttgart is a highly intelligent (musically and textually) group of singers who take on a great number of difficult historical and contemporary scores, not the least of which is represented by these works by Alfred Schnittke. In addition to being a highly innovative composer, Schnittke also trained as a choir conductor. For his Psalms of Repentance, premiered in Moscow in 1988 during the thousand-year anniversary of the Christianization of Russia, he selected texts from a collection of 16th-century writings on subjects such as arrogance, hypocrisy, greed, original sin and fratricide. Musically, he began with Russian Orthodox chant, Gregorian chant and organum which he then filtered through his modernistic style. The effect is soulfully dark and archaic, and Schnittke himself admitted that he could not explain the technique but that the music was dominated by its linguistic origin. Contrasting this, the last movement finishes the work with no text at all, a vocalise sung bocca chiusa [with closed mouth]. Similarly, at the end of the recording is Schnittke's mesmerizing, hauntingly beautiful Voices of Nature for female voices and vibraphone, in a style described as "structured simplicity," with consonant sounds evoking the natural world through the creation of tone clusters that sporadically appear and disappear. Again, the choir produces a gorgeous soundscape with absolute, perfect precision.