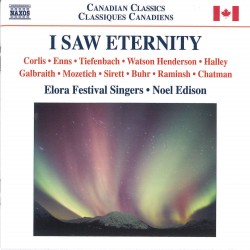 I Saw Eternity
Elora Festival Singers; Noel Edison
Naxos 8.572812
The Elora Festival Singers continues its history of collaboration with Canadian composers in this strikingly beautiful recording. Four of the selections on this disc were composed expressly for this choir, and these, as well as the other selections, are well served by the choir's pitch-perfect and artful delivery. In the title track by Leonard Enns, we are struck by the passages which incorporate a layering of voices that build and cascade in awe of a profound experience. Peter Tiefenbach's Nunc Dimittis is peaceful in character, with a gentle, melodic interplay of voices with the piano, played with loving sensitivity by Leslie De'Ath, who also evokes the shimmering movement of water in the Agnus Dei from Glenn Buhr's Richot Mass.
Organist Michael Bloss both supports and enlivens Paul Halley's Bring us, O Lord God. In Ruth Watson Henderson's unaccompanied Missa Brevis, upper voices maintain a consistently pure, even tone, resulting in a treble-like quality reminiscent of that in a traditional men and boys choir. The excellent control of soprano voices is also evident in Craig Galbraith's setting of Let all Mortal Flesh Keep Silence with the dolce and pianissimo delivery of top notes. On a text by Rabindranath Tagore, Marjan Mozetich's Flying Swans is written with a wonderfully mystic accompaniment of cello and clarinet, which features drone, ostinato and solo passages, some of which evoke the flapping of wings and trumpeting of the swans, all executed brilliantly by John Marshman and Stephen Pierre.