DIVAS' DELIGHTS – Opera, Lieder, Art Song and the Contemporary Air
We enjoy a wide range of genre in recent offerings from those best known in the world of opera. This month, we salute those with more conventional releases and those who stray unexpectedly but delightfully from the fold, all manifesting as chanteuses extraordinaire.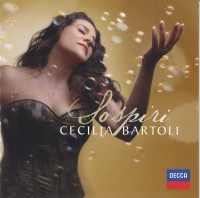 Sospiri (Decca 4782558), is a compilation of Cecilia Bartoli's best recital selections and is comprised of opera arias and sacred songs recorded between 1994 and 2009. A singer famous for her thrilling and fast-paced virtuosic vocal runs, this collection's name which translates as 'sighs' indicates a focus on her mastery of more relaxed and tender expressions. To this end, we have pieces like Handel's Lascia la spina and Mozart's Laudate dominum performed with exquisite beauty and sensitivity. It seems, however, they could not resist the inclusion of spectacular runs and dramatic showpieces such as Una voce poco fa and Geminiano Giacomelli's Merope: Sposa non mi conosci. An enchanting mix of well-known favourites with obscure and precious gems.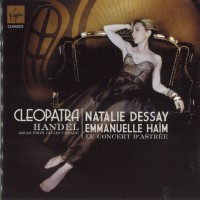 Natalie Dessay's Cleopatra: Arias from Giulio Cesare (Virgin Classics 5099990 7872 2 5) showcases this soprano's dramatic range in her newest role at the Paris Opéra as the Queen of the Nile's arias demonstrate the "infinite variety" referred to by Shakespeare. Regal bearing forms one facet of the bejewelled monarch, jealousy and vindictiveness another and sensuality and tenderness yet another. Dessay handles the dramatic transitions flawlessly while the beauty and precision of her vocal work creates a superb pairing with the dynamic ensemble Le Concert d'Astrée. All are led by Emmanuelle Haim who Dessay says is the perfect stage director for her voice.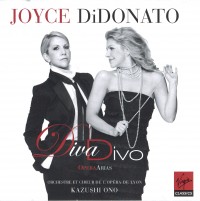 Diva Divo (Virgin Classics 50999 641986 0 6) is Joyce DiDonato's tribute to the world of the mezzo-soprano who, à la Victor/Victoria, "has always been called upon to bend the genders, to convince equally in both pants and skirts… while hopefully retaining an individual and unique sound." Featured 'trouser roles' such as Mozart's Cherubino, Bellini's Romeo and Massenet's Prince Charming are set alongside female counterparts such as Mozart's Susanna and Rossini's Cinderella. Not only gender variations, but same themes and stories set by different composers are juxtaposed in this recording from the Opera de Lyon under Kazushi Ono's direction, for example selections from both Mozart & Gluck's La Clemenza di Tito, providing an interesting perspective on the versatility of the performer. Which, of course, Ms. Donato is (and a stellar one at that!).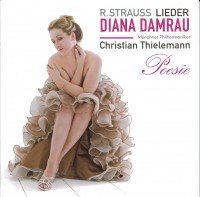 Poésie (Virgin Classics 5099962 8664 0 8), features the orchestral songs of Richard Strauss throughout which Diana Damrau's flawless voice soars transcendently all the while sustaining enormous depth of emotion. She really makes the most of the atmospheric changes and seemingly infinite range of colour with which Strauss infuses his songs. It is breathtakingly expressive even when Damrau drops to a pianissimo passage. Strauss considered his temperamental wife Pauline the ideal interpreter of his songs and the only one to whom he would entrust the intimate raptures of songs like Morgen and Allerseelen. Perhaps he would reconsider if he were with us today to hear this singer who seems to understand the ever-shifting nuances of his work so well. Christian Thielemann is in top form leading the Munich Philharmonic
With Cirque (Sono Luminus DSL-92125 www.sonoluminus.com), Céline Ricci conjures up the carnival atmosphere of the streets of 1920s Paris with songs of the era weaving a smoky screen of mesmerizing inventions and illusions. Having been chosen by William Christie for Les Jardin des Voix and named one of opera's promising young talents by Opernwelt, in her first solo recording Ricci tackles Henri Sauguet's cycle Cirque with all the flair of a ringmaster, Milhaud's Six Chansons de Théatre with the brash seductiveness of the cabaret singer and Poulenc's Cocardes with fantastical whimsy. Pianist Daniel Lockert adds a dash of panache to the scene with Satie's Rag-time Parade.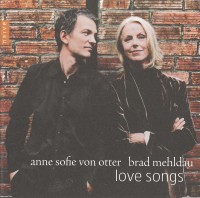 Teaming up with jazz pianist Brad Mehldau for Love Songs (Naïve 2CD V5421), Anne Sofie von Otter demonstrates great artistic versatility. In doing so she neither sacrifices her pure and dulcet tones nor delivers any measure of artifice inappropriate to the character of the music. Or, as Mehldau comments, she is never overly dramatic. Take, for example, her rendition of Lennon & McCartney's Blackbird which is as sweet and simple as it ever should be juxtaposed with the subtle nuance of Jacque Brel's Chanson des vieux amants and the wistful fun of Walking My Baby Back Home sung in Swedish. Mehldau's own Love Songs cycle, commissioned by Carnegie Hall and written for von Otter, offers a lovely and eloquent vehicle for these two artists.