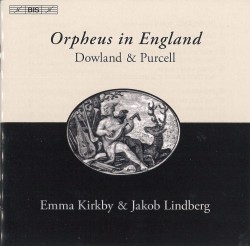 Orpheus in England - Dowland & Purcell
Emma Kirkby & Jakob Lindberg
BIS CD-1725
Orpheus is famed in classical mythology for his music which charmed and soothed all those who heard: be they gods, demons, humans, animals, elements, vegetation or even rocks and stones. The two English composers featured on this recording shared this ability. Recognized as "the English Orpheus" by his patron, John Dowland was sought in the European courts as both composer and performer of the finest songs for voice and lute. Performing this music with all its bittersweet tenderness requires a purity of tone from the singer combined with a deft and light touch from the lutenist. And whose sensibilities are better to deliver this more expertly than Emma Kirkby and Jacob Lindberg handling the gamut from bright pastoral delights like By a fountain where I lay to the melancholic despair of In darkness let me dwell? Interspersed are solo lute offerings such as The Earl of Essex, his galliard and Lacrimae.
While the second Orpheus Britannicus featured generally made use of larger musical forces, many of Henry Purcell's tunes lend themselves well to Lindberg's own transcriptions for solo lute, such as the Echo dance of the furies from Dido & Aeneas and Lillibulero. Kirkby's diction and pacing add superb dramatic content to From Silent Shades as well as her brilliant emotive vocal ebbs and swells in Music for a while. The listener is indeed transported to a time of grace and beauty through music's true power.