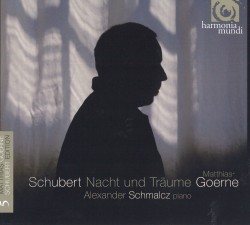 Schubert - Nacht und Traume
Matthias Goerne; Alexander Schmalcz
Harmonia Mundi HMC 902063
It's a joy to have a recording capture your attention in its opening measures and hold it effortlessly for an hour. These Schubert Lieder sung by baritone Matthias Goerne with pianist Alexander Schmalcz do so because the performers know the seductive power of Romantic lyricism and how to use it.
While death is the subject of most of these poems, Schubert has written melodic lines that are anything but relentlessly bleak portrayals of this spectre. There are a couple of wonderfully grim items on the program to be sure, but most are surprisingly lovely and accurately reflect the poets' emotional intentions.
Goerne's voice is smooth, pleasantly dark for the range and of medium heft. He's generally light for the mid and upper registers, which is exactly how these Lieder should be sung. His lower range opens a powerhouse where we hear his opera stage voice several times as in Totengräberweise, D. 869 and especially in Totengräbers Heimweh, D. 842.
Goerne and Schmalcz, moreover, present an artistic collaboration that raises the piano to a status of lyrical partnership. Schmalcz is a wonderfully sensitive accompanist. He knows when Schubert hands off a melodic line by sending the voice in an unexpected direction. Through some masterful touch of the keyboard he somehow produces a near tonal match to Goerne's baritone voice and creates a wonderful aural effect.
True fans of Schubert lieder who still hold Dietrich Fischer-Dieskau as torch-bearer for the genre will recognize some of his vocal and interpretive technique in Goerne's performance and so they should… Goerne was one of his students.