Yiddish to the Heart
Tango Yona
Independent n/a (tangoyona.com)
Tango Fado Duo
Daniel Binelli; Pedro H. da Silva
Sorel Classics SC CD 012 (sorelmusic.org/Sorel/Recordings)
My first childhood memories of tangos were watching my parents and their friends put on the vinyl and dance enchantingly in living rooms and backyard lawns to the rhythmic, sultry melodies. I loved the sounds and later became enthralled with the extension of the style by Astor Piazzolla. Here are two releases which take tango even further.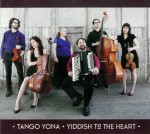 Montreal-based Tango Yona is comprised of the amazing accordionist Yoni Kaston with Briga Dajczer and Daniel Fuchs (violins), Gael Huard (cello), Joel Kerr (bass) and Jane Erkin (vocals). Their CD, Yiddish to the Heart, features heart-wrenching exploratory performances embracing tango qualities of Holocaust songs, and other songs from the 1920s to the 1960s. The emotionally charged Yiddish-language lyrics, juxtaposed against familiar tango qualities, create moving memorable music. Erkin is a dynamic performer, whether singing or speaking the heartrending mother's love story A Mames Harts/A Mama's Heart, against violin/accordion solos and a closing fast tango. Markovtshizne has a more traditional tango feel with superb vocal/violin interplay, deep resonant bass, and melodic accordion flourishes, with the dynamic vocals grappling with difficult labour camp existence. Like the more symphonic string sound under the vocal duet with Erkin and guest Damian Nisenson, Es Benkt Zikh/Yearning, the less evident tango backdrop lets the love lyrics lead. Contrasting touches of New York theatre surface, as a jazzy show tune leads to a strong tango and theatrical violin ending in Shpet Bay Nakht/Late at Night. Tango Yona deserves a standing ovation for their research and performances of these dramatic, diverse pieces.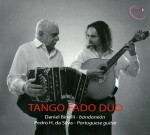 Portuguese Fado music meets Argentine tangos head on as Portuguese guitarist Pedro H. da Silva and Argentine bandoneonist Daniel Binelli unite their multifaceted superstar musical talents in this strong, novel genre duet project, Tango Fado Duo. Opening track Quiero ser tu sombra ("La partida") sets the stage with contrasting instrumental possibilities at fast tempos. Big surprise here is that the absent bass and drums on the CD are not missed, as the music is driven by the tight ensemble playing. The traditional tango El Choclo (tango) is a straightforward, uplifting cover of the tango classic, especially in the guitar middle section where the accompanying sharp staccato bandoneon notes create a new take on this famous tune. Piazzolla classic Oblivión (milonga lenta) is given a unique rendition with an overwhelmingly musical, impassioned exploration. The classic Portuguese song Lisboa antiga becomes a tango with bandoneon melodic swells, dramatic slow guitar strums and held-note ending. Fado style is maintained in the fast tempo Maria Lisboa (fado) featuring more great musical dialogues. An extremely subtle tango backdrop is heard in Binelli's French musette-spirited Paris desde aqui, while Da Silva's Lachrymae has him use finger-style classical techniques on the Portuguese guitar. Intriguing!