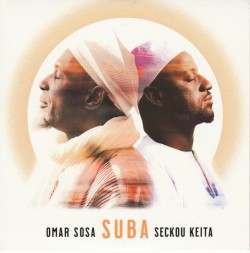 Suba
Omar Sosa; Seckou Keita
Bendigedig BEND18 (grigorian.com/webstore/view.php?iid=2188258)
Every now and then the world is graced by an album that has a certain kind of gentleness – the gentleness that contains compassion for humanity and the quest for change. Suba, meaning sunrise in Mandinka, is a melodious microcosm of quietude and hope. There is nothing forced in the music on this album. Each song unfolds in a moment, unhurriedly, as it is just meant to be.
Omar Sosa (piano) and Seckou Keita (kora, voice) have a knack for creating music that is harmonious with the world and placatory in its core. Both are masters of their instruments, distinguished artistic voices that bring traditions of Cuba and Senegal to the forefront. Sosa plays piano soulfully, as if he is always aware of the preciousness of the moment. On the other end of this collaboration is Keita, whose playing and singing have a beautiful lightness, subtle and captivating. Suba is rooted in Africa and its traditions, with the occasional spice of jazz elements. Equally divided between instrumental and vocal pieces, the album also features a fantastic team of musicians, most notably Jaques Morelenbaum on cello.
The opening vocal piece Kharit and the percussively driven Allah Léno establish the atmosphere of longing and peace that persists throughout the album. The music always moves forward and the beauty is always present. No One Knows concludes the album with a sonic sparseness that leaves the listener with a profound sense of peace.