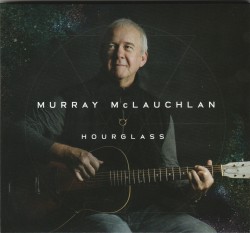 Hourglass
Murray McLauchlan
True North Records TND777 (truenorthrecords.com)
Murray McLauchlan, celebrated singer-songwriter and recipient of the Order of Canada, has turned to such issues as privilege and racism on his 20th album, Hourglass. Its pointed songs speak sincerely and directly to issues of greed and prejudice that make so many lives unliveable.
These are folk-style, gentle and homey songs, sometimes nearly whispered, although I think McLauchlan's vocal mid- and upper-ranges are just fine! His acoustic guitar work, Burke Carroll's steel guitar and other instruments are always reliable. Indeed, nothing on this album is overcomplicated and some of the songs would attract the interest of both children and parents.
I particularly like the title track, which emphasizes the urgency of current problems: "But I see the sand run out through the hourglass, I swear I don't remember it ever ran so fast." Here lyrics and melody, guitar accompaniment and the steel overlay come together especially well. Lying By the Sea I find the most moving song. It is based on the tragic media image of a refugee boy fleeing the Middle East who drowned and washed up on shore. America, with a beautiful steel guitar introduction, is a plea to the USA that could also apply in Canada: "Now you're in your separate rooms, And all the doors are locked." Finally, I Live on a White Cloud and Shining City on a Hill are songs reminding us of our obliviousness – to racism and to reality itself.