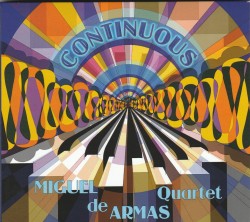 Continuous
Miguel de Armas Quartet
Three Pines Records TPR-003-02 (migueldearmas.com)
Miguel de Armas – the inspired Cuban pianist/keyboardist/composer/producer and co-founder of the noted Cuban timba-band N.G. La Banda – has just released a glorious musical manifesto of genre-blending, unifying tunes, tunes that are also firmly rooted in the sacred and ancient feel of Cuban "songo," a magical fusion of Afro-Cuban musics with elements of pop, Latin jazz, calypso and other esoteric influences. Joining de Armas on this invigorating CD are Marc Decho on bass, Michel Medrano Brindis on drums and Diomer González on congas, as well as an array of luminary guests that include bassist Roberto Riverón, saxophonist Petr Cancura, percussionist Samuel Formell, congero (and member of Los Van Van) Joel Cuesta and noted congero Eliel Lazo.
All of the compositions here were penned by de Armas (with the exception of Song For Bebo by Decho). De Armas has an almost cinematic way of telling his musical stories, stories that unite us all in the human experience: love in all of its colours, immigration, culture shock and the seemingly un-ending northeastern winters. Things kick off with the title track – a piquant, bass-infused burner with a dash of supple vocals, as well as a thoroughly delicious and complex chord progression and melody line. Next up is the contemporary Couscous, with its morphing time signatures, pianistic excellence and stirring bass solo by Decho.
Another stunner is Angelique, with its haunting arrangement and phenomenal guitar work of Elmer Ferrer, as well as the incendiary performance by Lazo. Other delights include the romantic, neo-classical string-laden Eva Luna and the thoroughly satisfying Gone Too Soon. Without question, this is one of the most enjoyable, globally unifying and instrumentally thrilling CDs of the year.