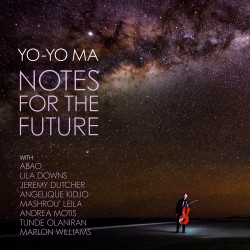 Notes for the Future
Yo-Yo Ma
Sony (yo-yoma.com)
Renowned cellist Yo-Yo Ma's new album Notes for the Future is a series of intimate and heartfelt studio collaborations with singers from five continents. The album's nine tracks feature Ma with well-known divas and a few names new to me: Angélique Kidjo, Mashrou' Leila, Tunde Olaniran, Jeremy Dutcher, Andrea Motis, ABAO, Lila Downs and Marlon Williams.
Ma, United Nations Messenger of Peace, writes that this album's global musical journey explores "how culture can help us imagine and build a better world, featuring vocals in Arabic, Zapotec, Catalan, Paiwan, Spanish, Mi'kmaq, Wolastoqey, Ewe, Maori, and English." Celebrating the "wisdom of the generations that were and the possibility of those to come," Ma aims to express "our fears and hopes, reminding us that the future is ours to shape, together."
Given that stirring mission statement, how does Notes for the Future deliver musically? To answer, I'd like to focus on Honor Song, the collaboration between Ma and tenor-composer Jeremy Dutcher. Juno and Polaris Prize winner, Dutcher, a member of the Tobique First Nation in New Brunswick, describes Honor Song as "a Mi'kmaq anthem […] that invokes our collective responsibility to care for the planet we share." Dutcher's soaring and emotion-filled Wolastoqey vocal is brilliantly counterpointed by Ma's lyrical bass-heavy cello and powerful chordal accompaniment.
Dutcher wrote: "This collaboration changed my life, and I'm so grateful to him for sharing his platform and allowing so many more people to hear our songs + languages!" I found the entire album a stirring journey.