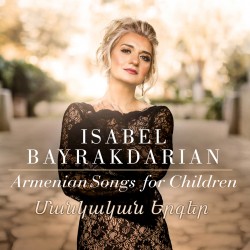 Armenian Songs for Children
Isabel Bayrakdarian
Avie AV2449 (naxosdirect.com/search/av2449)
A tribute to Isabel Bayrakdarian's personal heritage, this collection of songs plays like a musical kaleidoscope – ever-changing reflective melodies are connected to beautiful and simple forms, creating a magical sonic space. The 29 tracks are comprised of compositions by Armenian composer and musicologist Gomidas Vartabed (aka Komitas) and his students Parsegh Ganatchian and Mihran Toumajan, as well as some traditional songs.
One should not be deceived by the fairly slow tempos, there is plenty of movement here – swinging, rocking, bouncing, clapping. A wooden horse and a monkey hang around, and a scarecrow and a nightingale make friends. On the deeper level, there is much longing and sorrow connected to dreams and memories of the Armenian nation and their history. The melodies of these songs are beautiful, sometimes playful, often poignant. The arrangements are sparse, creating an abundance of space for breath and colour. Some of these songs have been sung through five generations of Bayrakdarian's family and one cannot help but feel the sense of intimacy and immediacy that comes from the weight of life experiences.
Bayrakdarian is phenomenal in conveying the emotional context of these songs. Her voice is willowy and soothing at the same time and she is quite successful in combining the embellishments of folk idioms with the clarity of classical expression. The accompanying ensemble – Ellie Choate (harp), Ray Furuta (flute) and Ruben Harutyunyan (duduk) – has an understated elegance to it, allowing the intensity of Bayrakdarian's voice to come through.