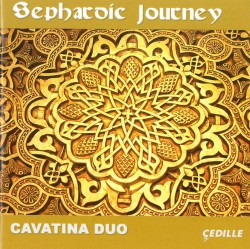 Sephardic Journey
Cavatina Duo
Cedille CDR 90000 163 (cedillerecords.org)
Sephardic Journey is the result of a 20-year exploration taken by the Cavatina Duo – the husband and wife team of Bosnian-born guitarist, Denis Azabagic, and Spanish-born flutist, Eugenia Moliner – into their Sephardic Jewish heritage. In 1996, Azabagic learned that a great aunt of his was a descendant of Sephardic Jews who left Spain at the end of the 15th century. Later, Moliner discovered her own connection: to avoid being expelled, some Jews living in medieval Spain converted to Christianity, taking on last names according to their vocations; a miller, for example, adopted the name "Moliner."
From this shared background comes a compelling CD of new works commissioned specifically for the Cavatina Duo, all drawing on traditional Sephardic folk tunes – mostly love songs with their often-dramatic, Ladino (Judeo-Spanish) texts – for inspiration.
The recording is infused with gorgeous, evocative melodies, soulful and plaintive laments, lyrical flights of fancy, sultry twists on the tango, startling percussive passages and an exhilarating energy. Azabagic and Moliner are virtuosic, passionate musicians, deftly accompanied by David Cunliffe on cello, Desirée Ruhstrat, violin, and the Avalon String Quartet.
Joseph V. Willams II's Isabel is the lone flute and guitar duo on the CD; the remaining four works include trios by Alan Thomas and Carlos Rafael Rivera, and sextets by David Leisner and Clarice Assad. I was particularly struck by the third movement of Leisner's Love Dreams of the Exile, which juxtaposes a jarring, percussive introduction with a generous, heartachingly beautiful quote from the beloved Ladino ballad, Tu madre cuando te parió (Adio Querida).
I wholeheartedly recommend joining the Cavatina Duo on their journey.