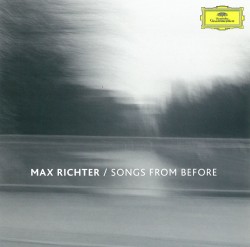 Max Richter – Songs From Before
Robert Wyatt; Max Richter
Deutsche Grammophon 4795566
For some years now you could have confined your re-imagined and exploratory music CD buying to releases by the German-born composer, pianist and electronics manipulator Max Richter and found your shelves start to sing with depth and invention. And that would hardly be surprising. Richter is among the foremost of the talented new musicians who have developed a sharply individualistic, difficult-to-classify personal genre. Here, on Songs From Before, as is customary, roots in and branches from folk and classical often surface, but there is so much else going on: Richter skilfully, imaginatively and (by-and-large) subtly mixes in elements of electronic music, rock, contemporary composition and the occasional nod to the fantasy of poetic recitation.
Although most of the pieces develop from beguiling, elegant melodies, what makes them so special is Richter's manner with arresting textures and colours – achieved not only with his keyboards, but also with the strings. These sonic creations stimulate mental pictures of mysterious narratives – especially when on Flowers for Yulia, Harmonium, Time Passing, Lullaby and Verses, Robert Wyatt is called upon to recite sparse verses – evoking the work of such chroniclers and visionaries as Bach and Arvo Pärt. And yet with every phrase unfolding a new mystery as if by aural magic, one is irresistibly drawn to this music because it is distinctly and uniquely a part of Max Richter's own sound world.