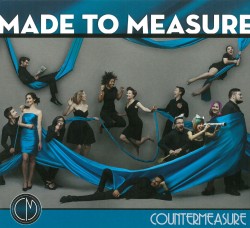 Made to Measure
Countermeasure
Independent (countermeasuremusic.com)
Review
Toronto a cappella group Countermeasure showcases itself as a musically astute and on-the-edge vocal group. Using only their voices, they create a mind-boggling array of sounds from harmonic lyrical choral to rocking percussive to instrumental sounds. Exciting and groundbreaking to say the least, the 14 young members are led in this energetic band project by composer/arranger Aaron Jensen.
A plethora of styles and influences are technically and convincingly performed. Cole Porter's I've Got You Under My Skin is a funky percussive rendition with lush harmonies, horn and bass sounds supporting soloist Qwyn MacLachlan. Jensen's ballad Fox in the Field highlights more classic wistful colourful harmonies and phrases. Train the A Take draws on the standard Take the A Train as fragments of melodies are combined and repeated while amazing train-like vocal noises keep it moving. Covers of a Middle Eastern world music-flavoured Bruce Cockburn's Lovers in A Dangerous Time, and pop, jazz and you-name-it spiced Beatles' I Saw Her Standing There give each song refreshing new aural lives. The title track Made to Measure is an uplifting touch of musical theatre written by member J-M Erlendson. Witty yet never sarcastic, the show goes on with brevity, drama and comedy.
Sometimes there is too much of a good thing as so many stylistic references and percussive sounds overtake the essence of the piece. Nonetheless, Countermeasure is a rising star in the Canadian music and recording scene.