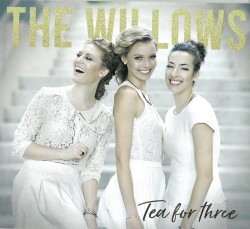 Tea for Three
The Willows
Flatcar Records FCR-005 (flatcarrecords.com)
There is a plethora of upbeat happy performances in the debut release by the vocal trio The Willows – Krista Deady (contralto), Lauren Pederson (mezzo-soprano, composer/arranger) and Andrea Gregorio (soprano). Their website bios state that they were involved in dance together from childhood, both in their hometown of Edmonton and here in Toronto at Ryerson University's dance program. A chance public Ryerson music class vocal performance encouraged them to further explore the music world together. They are definitely dancers who can confidently sing with clear diction, colour, pitch, love of life and tight harmonies.
There is nothing really adventurous in the music – all the tracks have Pederson penning the songs either alone or with other composers. Her music is reminiscent of many female vocal trio jazz and ballad styles of past decades, with support from brilliant background musicians. Breakfast in Bed has a great upbeat sing-along melodic hook, while Dear Gussy is a klezmer-flavoured toe-tapping tune. Valentine is a mellower jazz ballad with storytelling lyrics that showcase their vocal nuances. All the string and horn instrumentalists are great, with special mention to George Koller (bass), William Sperandel (trumpet/flugelhorn) and Tom Szczesniak (accordion), and the recording/production teams.
Just like they buoyantly sing the words "never judge a man by his cover" in the closing track Never Judge, don't judge The Willows by their self-proclaimed different hair colours but instead indulge in their exploration of easy listening jazz.