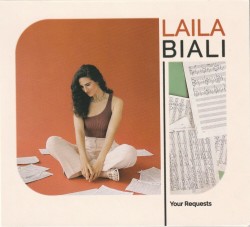 Your Requests
Laila Biali
Imago EMG607 (lailabiali.com)
Gifted pianist and vocalist Laila Biali has just released an all-star recording with an interesting twist; in addition to welcoming vocal luminaries Kurt Elling, Emilie-Claire Barlow and Caity Gyorgy, the repertoire is based on requests that she has received from audience members during her performances.
There are ten exquisite tracks here. Biali's instrumental collaborators include clarinetist Anat Cohen, Grégoire Maret on harmonica, Michael Davidson on vibes, Kelly Jefferson on tenor/soprano sax, George Koller on bass, Ben Wittman (who also shares arranging and production credits with Biali) and Larnell Lewis on drums and Maninho Costa on percussion.
First up is the classic standard, Bye Bye Blackbird, arranged with a contemporary and rhythmic sensibility, replete with a dynamic sax solo from Jefferson. Directly following is a diaphanous take on Oscar Levant's Blame it on My Youth. Biali's voice is sultry and emotive here, perfectly interpreting the story of the poetic lyric. Also of note is Rogers and Hart's immortal ballad My Funny Valentine, rendered here (with palpable musical chemistry) as a lovely duet between Biali and the inimitable Elling.
A true highlight is an inspired duet with Barlow on Rogers and Hammerstein's My Favourite Things. Barlow and Biali harmonize effortlessly and easily manifest a joyous track. Additionally, Biali shines on both piano and voice on a sumptuous take on Autumn Leaves. Her interpretation of Johnny Mercer's renowned lyric is perfection itself, enhanced by another dynamic soprano sax solo from Jefferson and sensitive and creative bass work from Koller.