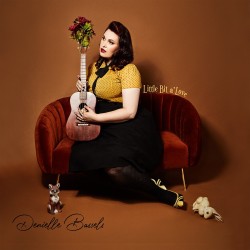 Little Bit a ' Love
Denielle Bassels
Independent (deniellebassels.com)
Vibrant and fresh are two descriptors that are worn easily by delightful and innovative vocalist, tunesmith and arranger, Denielle Bassels. With the release of her second studio project, Bassels shines and establishes herself as one of the most intriguing jazz/pop singer/songwriters on the current scene. Harkening to the swing era, and yet firmly contemporary, Bassels is joined here by talented musicians throughout, including her core band, bassist Russ Boswell, violin/viola player Drew Jurecka, vibraphonist/guitarist Thom McKay (who, along with Bassels, serves as co-producer here) and noted percussionist Chendy Leon, as well as guests.
The majority of tunes here were both composed and arranged by Bassels, and the uplifting opener (and title track) incorporates irresistible swing motifs with Bassels' smoky, sultry, sonorous voice, accented by sweet background vocals. Another treat is Tangled Thread, the complex rhythmic and melodic vocal line reminiscent of the sassy Boswell sisters, replete with a fine acoustic guitar solo from Tak Arikushi. Another stunner is Lazy Gazing – a perfect marriage of melody, lyrics and arrangement. The bluesy Gone is a heart-rending and soulful romantic idyll rendered with intensity and heart, and the inclusion of McKay's vibes on the Cinema Noir-ish Big Bad Wolf is genius.
The closer, I Wanna Be Like You, is consummately performed by Bassels, and with the clever addition of Jacob Gorzhaltsan's stirring clarinet work, the listener is magically transported to a lower east-side speak easy where they are regaled by a talented, luminous chanteuse!