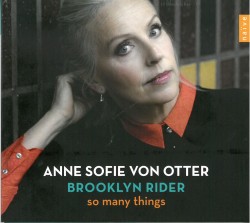 So Many Things
Anne Sofie von Otter
Naïve V5436
The eloquent and versatile Anne Sofie von Otter is much admired for her ability to cross over genres effortlessly in a manner far more hip than many of the classical persuasion. Teaming up with the equally fluid string quartet Brooklyn Rider, well-known for collaborations with artists in genres from jazz to world music, they explore on this recording an eclectic collection of repertoire from John Adams to Björk to Elvis Costello with great affinity and intelligent interpretation. As well as the performers' favourite selections, there are pieces included that were created specifically for them: Nico Muhly's So Many Things and For Sixty Cents, an amusing New York vignette by the quartet's violinist Colin Jacobsen. Pulitzer Prize-winner Caroline Shaw offered her Cant voi l'aube, a modern reworking of a 12th-century trouvère song.
Songs of unconventional love affairs such as Kate Bush's Pi and Sting's Practical Arrangement are remedies to the common love song, providing the listener with another insightful glimpse into urban life. Ending with a nod to the fusion of opera and popular music, they perform Les feux d'artifice t'appellent, the closing aria from Rufus Wainwright's debut opera, Prima Donna.