Verve was one of if not the best source of recordings by new generations of jazz musicians who had new ideas and things to say beyond arrangements generated for dance bands and popular vocalists. In 1944, impresario Norman Granz (1918-2001) devised an evening-long jam session to be held in the Philharmonic Auditorium in Los Angeles. The word auditorium didn't appear on the posters and the affair was referred to as Jazz at the Philharmonic, an appellation that Granz held on to. Musicians on the very first live recordings included Lester Young, Illinois Jacquet, J.J. Johnson, Les Paul, Nat King Cole and Meade Lux Lewis, the early JATP regulars. Over the years from 1944 until 1983 the regulars evolved with new artists, many of whom became known through one of Granz's own record labels, of which there were eventually five, the culmination of which was Verve.
Review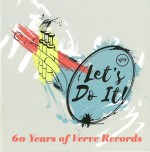 A long-time fan of JATP through their concert recordings and individual albums of many of their artists, I was intrigued about the contents of Let's Do It! (Verve 4782558, 4CDs), selections from across 60 Years of Verve Records. As it turns out, the choice of 47 memorable tracks, the earliest from 1953, could not be more pleasing or better sequenced. Featured artists include the Oscar Peterson Trio alone (C Jam Blues) or collaborating with Louis Armstrong, Ella Fitzgerald, Bill Henderson (in a haunting version of The Lamp Is Low), Coleman Hawkins, Ben Webster and Milt Jackson. Listeners are reminded of, or introduced to, the artistry of Johnny Hodges, Stan Getz, Herbie Hancock, Tal Farlow, Kenny Barron, Jimmy Smith (The Cat), Cal Tjader, Count Basie, Roy Eldridge, Billie Holiday, Anita O'Day, Arthur Prysock, Diana Krall and, of course, Astrud and João Gilberto forever sighing over The Girl From Ipanema with Stan Getz.
The recorded sound should be mentioned. We are so accustomed to hearing recordings and video soundtracks that are a product of manipulations in the control room that it is like a breath of fresh air to hear exactly what the microphones heard, clearly, dynamically correct and distortion free. What one hears on these four discs is the real deal, deserving the highest recommendation.
Michael Gielen, for those who may not recognize his name, is an Austrian conductor whose career has been an interesting one. He was born in 1927 in Dresden and two years ago this month he officially retired from the podium for health reasons. His family moved to Buenos Aires in the 1930s where he studied piano, introducing audiences there to the entire piano music of Arnold Schoenberg in 1954. His uncle was Eduard Steuermann, who was a recognized advocate for Schoenberg and remembered today for his arrangement of the sextet Verklärte Nacht for piano trio. Steuermann was a teacher of Alfred Brendel. Returning to Europe in 1950 Gielen became a répétiteur at the Vienna State Opera coming into contact with Karajan, Bohm and other luminaries of the era. In 1952 he conducted the Vienna Konzerthaus Orchestra and made LPs for American companies. 1954 found him conducting the Vienna State Opera in addition to concerts of contemporary music elsewhere. From 1960 to 1964 he was conductor of the Royal Opera in Stockholm and from 1964 to 1984 he was to be found in Stuttgart conducting the Radio Symphony Orchestra, working for a time with Sergiu Celibidache. During that period he was also principal conductor of the Belgian National Orchestra (1968-1973) and principal conductor of the Dutch Opera in Amsterdam (1973-76). He was first guest conductor of the BBC Symphony (1978-1981) and from 1980 to 1986 he was music director of the Cincinnati Symphony. Later he was principal conductor of the SWF Orchestra in Baden-Baden (1986-1999). He was professor of conducting in Salzburg from 1987 to 1995. He conducted his last concert with the NDR Orchestra in 2014.
Normally the above brief outline of his career would not belong here but as many casual music lovers and collectors are unfamiliar with Gielen, his recorded performances, even if they were noticed, could very possibly be passed by without a second thought.
Review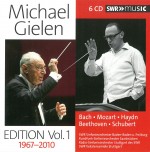 SWR Music has issued the first of a ten-part series of Gielen performances, Michael Gielen Edition Vol.1 1967-2010 (SWR19007CD, 6 CDs), a good percentage of which are first releases. There are two pieces by Bach, the Prelude and Fugue Book 1 No.4 BWV849 and an excerpt from Cantata BWV50, followed by Mozart: Symphonies 30, 35 and 36, German Dances, Overtures and Minuets. Haydn's Symphonies 95, 99 and 104, then Beethoven's three Leonore Overtures and Coriolan followed by the Triple Concerto with Edith Peinemann, Antonio Janigro and Jörg Demus. Schubert is well represented by music from Rosamunde; the Overture, Ballet Music and the Entr'acte after the third act; Mahler's transcription for string orchestra of the quartet Death and the Maiden; Intende voci – Offertorium for tenor, mixed chorus, organ and orchestra D963 sung by Thomas Moser, the Slovak Philharmonic Choir of Bratislava and the SWR Symphony of Baden-Baden and Freiburg followed by the Mass No.5 in A Major D678.
Usually, in any collection of this kind some performances are less interesting – they have to be. Not so here. Every performance is quietly engaging in tempi, choice of phrasing and subtle variations in volume – not for the sake of doing something differently from accepted practices but because it sounds exactly right, prompting one in each case to hang on to the work with fresh interest. These are performances that invite the listener in and hold her or his interest through to the last note, especially if that person is familiar with other versions. The sound is very good; only one or two pieces have that tight rundfunk studio sound to which the ear quickly adjusts.
The Gielen Edition is off to an auspicious start. Talk about great expectations!
The American pianist Julius Katchen was signed to English Decca in 1946, just ahead of the LP revolution. As Decca had the very finest engineers behind them in England and elsewhere, they were in the forefront of the trend, getting superior quality discs into the stores with EMI years behind. In the early years of the LP, it seemed that every new Decca release schedule featured Julius Katchen, who it seems could play anything with impeccable authority.
Katchen was born on August 15, 1926, in Long Beach, California. His grandmother, formerly on the faculty of the Warsaw Conservatory, was his first piano teacher and his grandfather taught him theory. His mother was also a concert pianist. In 1937, Eugene Ormandy engaged the 11-year-old to play the Mozart D Minor Concerto on October 21, 1937 with the Philadelphia Orchestra, and a month later he performed with the New York Philharmonic-Symphony. Critic Lawrence Gilman wrote: "His fingers are fleet, his conceptions clear and intelligent. He has a musicianly feeling for the contour and flow and rhythm of a phrase and a sense of what is meant by Mozartean style." He continued his scholastic studies majoring in philosophy and English literature.
1946 found him the toast of Europe in Paris, where inexplicably he was more popular than in his own country. That's when he signed with Decca. He played the entire piano works of Brahms in recitals and that composer was the backbone of his recorded repertoire: concertos, chamber music and solo piano. His artistry was unique including Bartók (no Bach), Beethoven, Britten, Chopin, Gershwin, Grieg, Liszt, Mozart, Mussorgsky, Prokofiev and Rachmaninoff, Ravel, Saint-Saëns, Schubert, Schumann and Tchaikovsky. He died on May 29, 1969, in Paris.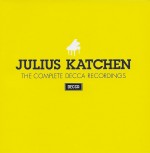 Julius Katchen, The Complete Decca Recordings (4839356, 35 CDs) contains 69 (or more, depending on how you count) performances, every note that he recorded including the 78 rpm discs and an unissued item, Franck's Prélude, choral et fugue from April 21, 1949. These recordings are clear evidence of his artistry and insights beyond mere technique, documented at the peak of his career. One can only contemplate upon what might have developed in his later years.
Assisting artists include conductors: Karl Münchinger, Peter Maag, Piero Gamba, Ataúlfo Argenta, István Kertész, Pierre Monteux, János Ferencsik, Georg Solti, Adrian Boult, Anatole Fistoulari, Ernest Ansermet, Mantovani, Skitch Henderson and Benjamin Britten; pianists Jean-Pierre Marty and Gary Graffmann; violinists Ruggiero Ricci and Josef Suk; clarinetist Thea King; cellist János Starker; and actress Beatrice Lillie.