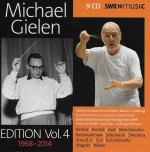 The awaited Volume Four of the projected ten-volume Michael Gielen Edition contains 24 distinctive performances of works by a dozen composers with, as in the earlier volumes, the SWR Radio Symphony Orchestra of Baden-Baden and Freiburg plus orchestras of Saarbrucken and Stuttgart (SWRMUSIC 19028CD, 9 CDs).
Born in Dresden in 1927, Gielen was répétiteur at the Vienna State Opera in 1950/51 where he encountered Karajan, Böhm and others, then making his first conducting appearance before the orchestra in 1954. A few of his many subsequent appointments included: from 1969 to 1973, conductor of the Belgian National Orchestra; first guest conductor of the BBC Symphony from 1978 to 1981; music director of the Cincinnati Symphony from 1980 to 1986; and music director of the Berlin State Opera from 1991 to 2012.
All of the performances here are of interest and most works hold your attention through to the last bar, particularly to those familiar with the music from other recordings. None are outrageously different. The subtle variations from the usual, both in phrasing and tempi, are most convincing and do not sound affected. Major works are Schumann's Scenes from Goethe's Faust with soloists and choruses, and the Berlioz Requiem; Dvořák's Violin Concerto (Josef Suk), Cello Concerto (Heinrich Schiff) and the Seventh Symphony; Tchaikovsky's Fourth and Sixth Symphonies; Josef Suk's A Summer's Tale (symphonic poem for large orchestra, Op.29); Schumann's First Symphony orchestrated by Mahler and Weber's Der Freischütz Overture and Second Piano Concerto (Ludwig Hoffmann). Adding works by Mendelssohn, Smetana, Liszt, Wagner, Rachmaninoff and others makes this an interesting and noteworthy collection, especially for the recorded sound which is clear and convincingly three dimensional, particularly the winds and brass which, while not spotlighted, are right there.
Back in the Massey Hall days I vividly recall seeing two visiting cellists with the TSO in close enough succession to be struck by their very different stage presence and playing. Jacqueline du Pré swept onto the stage and played with a contagious exuberance while Pierre Fournier walked on wearing a pale grey double-breasted suit, acknowledged the applause, took his chair and played with elegant authority.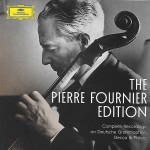 It can be well understood why Fournier was dubbed "the aristocrat of cellists," for as well as looking the part, he was a thorough musician who had divine taste and sensibilities for a broad repertoire. He conducted masterclasses at the Britten-Pears School for Advanced Musical Studies in Aldeburgh, where he was known as a very patient teacher, fussy in a good way and uncompromising. He made recordings for EMI and Columbia, Decca, Philips and DG; it seems that every company needed to have a Don Quixote played by Fournier in their catalogue, Decca with Clemens Krauss, EMI with Karajan, DG with Karajan, Columbia with Szell, DG with Szell and a few more. Deutsche Grammophon has gathered every Fournier recording made by DG, Decca and Philips and issued The Pierre Fournier Edition, in the now familiar cube format (4796909, 25 CDs).
Many collectors will own some of these performances but certainly not all. Here are a few of the meatier works: Don Quixote, two versions: Clemens Krauss and the Vienna Philharmonic (Decca 1953) and Karajan and the Berlin Philharmonic (DG 1965); also two of the Dvořák Cello Concerto – Kubelik and the VPO (Decca 1954) and Szell and the BPO (DG 1961). The disc mate of the Szell Dvořák is a mighty version of the Elgar Cello Concerto with Alfred Wallenstein conducting the BPO (DG 1966). The same sessions with Wallenstein produced a favourite version of Bloch's Hebrew Rhapsody, Schelomo. The Beethoven trios are heard with Wilhelm Kempff and Henryk Szeryng recorded by DG in Vevey, Switzerland, in 1969 and 1970. Beethoven's complete works for cello and piano were recorded by Fournier and Friedrich Gulda in Vienna's Musikverein in June 1959 and again with Wilhelm Kempff in the Salle Pleyel in Paris during February 1965…there can be few pianists less alike than Gulda and Kempff. Two of my favourite works are the Brahms Cello Sonatas. The version by Fournier and Wilhelm Backhaus (Decca 1955) was almost a permanent resident on my turntable and remains the favourite. There are two other versions, with his son Jean Fonda (Switzerland 1984) and with Rudolf Firkušný (Berlin 1965).
There is such a wealth of music here that just about any appropriate composer that comes to mind is heard, from Bach (the cello suites and sonatas) to Gershwin and Vivaldi, from Boccherini to Stravinsky. Anyone interested in the cello will think they've died and gone to heaven (as they say).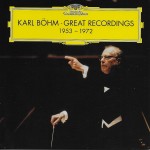 Karl Böhm – Great Recordings 1953-1972 is the second collection of the late conductor's memorable recordings for Deutsche Grammophon (4797021, 17 CDs). The first set of 23 discs, Late Recordings, a limited edition, appears to be almost depleted. Well, are these "Great Recordings" great recordings? For this collection there was a project manager and a man responsible for the compilation who had Böhm's entire oeuvre at his disposal. Where would they start? Not an enviable task but not as impossible as selecting "Böhm's Greatest Hit" would be. Of course, if he were totally obsessed with original instrument practice he would be the wrong man for the job. Clearly, he wasn't and listening through these 17 discs there is no question that almost all of these fit the bill. Touching on a few highlights beginning with CD 1, the Eroica is fresh and dynamic, impeccably played by the BPO in December 1961…before any of the Karajans. The 1955 Missa Solemnis on CD 3 with the BPO and Maria Stader, Marianna Radev, Anton Dermota and Josef Greindl is outstanding; however, the BPO Brahms First Symphony from 1959 on CD 4 simply floored me. It is perfectly balanced, driven and totally irresistible. A juggernaut. CDs 6 and 7 contain Böhm's captivating spontaneous 1967 vision of Haydn's Seasons with Gundula Janowitz, Peter Schreier, Marti Talvela, the Vienna Singverein and the Vienna Symphony Orchestra. CD 8 has Dietrich Fischer-Dieskau in Berlin in 1964 singing Mahler's Kindertotenlieder and four Rückert-Lieder. No commentary needed here. CDs 9 to 12 contain Mozart Serenades played by members of the BPO, plus the Haffner, the Posthorn, the Serenata notturna, the Grand Partita as well as some Schubert and music by Böhm's friend Richard Strauss. There are three CDs of Strauss' most famous tone poems played by the Dresden Staatskapelle orchestra. Including them was a mistake. The performances and recordings are of a lower order and not worthy of inclusion in this collection. There are two excellent CDs devoted to Böhm rehearsing and performing the Schubert's "Great" C Major Symphony together with "A Life Retold" all about Böhm in German. Still, 14 out of 17 isn't bad and, who knows, a lot of people might like the Strauss. The project manager did. Full track details at arkivmusic.com.