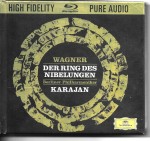 Last year some important omnibus editions did not reach us before the closing date of the December/January issue. Here are three outstanding productions of lasting interest that missed the boat: Wagner's Ring Cycle conducted by Karajan on one Blu-ray audio disc from DG; The Complete Recordings on Deutsche Grammophon of the Amadeus Quartet and The Complete Piano Concerto Recordings of Vladimir Ashkenazy on Decca.
Karajan's recordings of the Ring's four parts were made one a year, beginning in August, September and December, 1966 with Die Walküre. Rhinegold followed in December 1967 and Siegfried was made in December 1968 and February 1969, followed by Götterdämmerung that October. The venue was the much vaunted Jesus-Christus Kirche in Berlin. Longtime associate Otto Gerdes was the executive producer and the ubiquitous Gunther Hermanns was the recording engineer. The LPs of Walküre appeared in 1967 with Gotterdammerung completing the cycle in 1970. In 1998 DG issued a boxed CD edition of the complete cycle in their Original Image re-processing. Now there is a third incarnation complete on one High Fidelity, Pure Audio Blu-ray disc (DG 4797354, slip-cased with a 400-page hardcover book). Let it be understood that the original recordings were all analog, made on magnetic tape. Certainly, there would have been backup tapes and microphones at various positions. Dynamic range was some 20db less than digital. Fifty years later audio engineers have newer technology at their fingertips that can, in the right hands, reveal but not create hidden information from the originals, resulting in "lossless high fidelity." Does all this newer technology allow us to hear anything better than on the earlier Original Image CDs? What I had mainly hoped for was a more solid bass line on a firmer footing. Unencumbered by old technology the presence in the voices and exchanges between the protagonists are more convincing and the balances between instruments, top to bottom, is exemplary. Karajan paid meticulous attention to details, including the interaction between the characters to one another and the situation. As an example, in the first act of Walküre, as Siegmund, Jon Vickers' declaration of love, Winterstürme wichen dem Wonnemond to Gundula Janowitz as Sieglinde begins very quietly, at first gently intimate before becoming quite impassioned, leading to her spontaneous response, Du bist der Lenz. Between them they now set in motion fateful events that set up the rest of the cycle right to the very end. One of the great scenes in opera. This disc displays and names an abundance of access points so that any scene, vocal or orchestral can be easily queued. If you wish you can start at the first note of Rheingold and finish at the last note of Götterdämmerung. Already very familiar with these performances, I am thrilled with the superiority of this transparent new edition.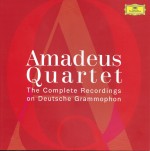 It was a sad time for the music world when the Amadeus Quartet dissolved in 1987 after 40 years as one of, if not the world's most esteemed string quartets. Their history is unique and is sure to remain so. Three of the four came together in an internment camp in Britain during WW2. Being Jewish, violinists Norbert Brainin, Siegmund Nissel and Peter Schidlof left Vienna for England after the Anschluss and, as aliens, were interned lastly on the Isle of Man. After their release they studied, free of charge, with violin teacher Max Rostal who introduced them to cellist Martin Lovett. Schidlof changed his violin for a viola and in 1947 the Brainin Quartet was formed. They changed their name to the Amadeus Quartet for their premiere concert in London's Wigmore Hall on January 10, 1948. Upon the death of Schidlof in 1987, the surviving members simply disbanded.
DG honours this 30-year anniversary with a complete edition of all the recordings that they had made, plus all that Decca had, together with the early recordings that the quartet had made for Westminster: Amadeus Quartet – The Complete Recordings on Deutsche Grammophon (DG4797589, 70 CDs with a 170-page full-colour book). As some works were recorded more than once over the years, we can make comparisons for ourselves and look for any changes in their overall interpretations or execution. For instance there are three performances of Beethoven's Third Razumovsky Quartet, 1959 (Hanover), 1983 (Wigmore Hall) and 1987 (St. Barnabas, for Decca): one work, three dates and venues, two recording philosophies. How about four different Mozart Hunt Quartet recordings: 1951, 1956, 1963 and 1982. The quartet excelled in the Austro-German repertoire so we find much Haydn, Mozart, Beethoven, Schubert and Brahms. Favourites include works by Bruckner, Dvořák, Smetana and Tchaikovsky. Guest luminaries heard with the group include Cecil Aronowitz, Christoph Eschenbach, Karl Leister, William Pleeth, Andreas Brau, Lothar Koch, Gervase de Peyer, Walter Klein, Rainer Zepperitz, Gerd Seiffert, Clifford Curzon, Emil Gilels and Benjamin Britten. Unexpected entries include Sir Ernest MacMillan's String Quartet in C Minor and Two Sketches on French Canadian Airs recorded in Canada's centennial year. The 70th disc contains some surprises. If I tell you now they won't be a surprise.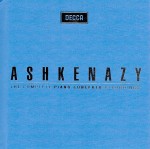 Vladimir Ashkenazy has been performing for more than 65 years and is best known as a pianist, but he is also a world-class conductor. I recall around 1990 chatting over dinner with a well-informed gentleman from Decca and asking him when Decca will finish their Ashkenazy/Shostakovich symphony cycle. "Never," he replied, explaining that a soloist cannot become a credible conductor to the record buying public. It just won't happen. Years later Decca issued a box set of the 15 Shostakovich symphonies with Ashkenazy that is still an active title. Also an outstanding cycle of the Rachmaninov symphonies with the Concertgebouw Orchestra. Ashkenazy is much more than a pianist. He is a superb musician and this shows in his playing.
Is there a pianist other than Ashkenazy on whom his or her record company has expended the time and money to record four complete versions of the Beethoven concertos? At this moment I can't think of one. All four, including a DVD cycle are included in Ashkenazy The Complete Piano Concerto Recordings (Decca 4831752, 46 CDs, 2 DVDs, hardbound 115-page book). As with the Amadeus set above, comparing versions is a collector's pleasure. As well as the Beethovens, this set is a music-lover's treasure chest including, in alphabetical order, the following concerti: Bach BWV1052, Bartók complete, both Brahms, both Chopin, the 27 Mozart, the five Prokofiev, the complete Rachmaninov twice, all Schumann's concerted works, both Scriabin and, of course, the Tchaikovsky First. There are lots of orchestral fillers and some solo recordings. On several of the concertos he also conducts from the keyboard. Other conductors include Solti, Mehta, Haitink, Kertész, Previn, Fistoulari, Maazel, Kondrashin, Zinman and Schmidt-Isserstedt. The two DVDs contain concerts from the Royal Festival Hall during March and April 1974 broadcast and recorded by the BBC. The London Philharmonic is conducted by Bernard Haitink in inspired performances of, you've guessed it, Beethoven's five piano concertos together with the overtures Leonore 2 and 3 and Egmont. Dated video but well worth enjoying.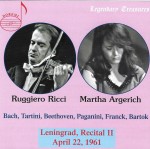 Doremi has, over recent years, issued an impressive resurrection of live performances of the young Martha Argerich from her earliest years. The latest is the second evening of a joint recital with the great violinist Ruggiero Ricci presented in Leningrad in 1961. The first from April 21 was issued by Doremi two years ago and here (Leningrad Recital II, DHR-8053) we have the following evening, April 22. Listening to this CD reminded me of what collecting recordings is all about. It's about the ability to, at will, re-experience such sublime music-making as this that otherwise can be remembered only by those present or hearing the broadcast. Recordings such as this can resurrect, as they say, "immortal performances." Not virtual reality but the next best thing. At this time Argerich was 19 years old, well before she won the Chopin competition in Warsaw and became an international celebrity. Ricci, at 42, was already well recognized as one of the leading violinists of the century. The result of two compatible intellects at work – at play – is evident. Their complete absorption into the music is profound. Quite extraordinary. You would need to hear it to appreciate it. Here is the repertoire with a comment or two. The Bach Chaconne BWV1004. Beethoven's First Violin Sonata Op12, No1; the Franck Sonata for Violin and Piano in A Major; Bartók Six Romanian Folk Dances Sz56; Paganini, Introduction and Variations for solo violin on Nel cor più non mi sento from La bella molinara by Paisiello and finally Tartini Devil's Trill Sonata. The Bach Chaconne is astonishingly majestic while the Paganini is humanly impossible to play… except that he does so, easily and with style. There are delights in every track. The very natural, textured recording was made by Leningrad Radio in the Great Philharmonic Hall. There's some audience shuffling but the performances, all 82 minutes, shine through.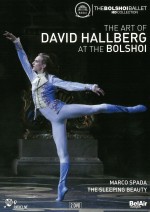 Many of us continue to be thrilled by the Bolshoi Ballet DVDs and Blu-rays that have arrived from their distributor over the last couple of years. The latest is The Art of David Hallberg at the Bolshoi (BelAir Classics BAC617, 2 DVDs). A performance of Auber's Marco Spada choreographed by Pierre Lacotte from 2014 is slip-cased with the now ubiquitous Sleeping Beauty choreographed by Yuri Grigorovich from 2011. Both ballets are still available separately. Well worth owning, Marco Spada is a dashing performance, but you may not want another copy of Sleeping Beauty.