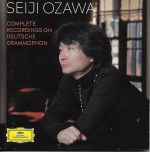 When Seiji Ozawa took over the Boston Symphony Orchestra in 1973, his was not a new name to Toronto concertgoers as he had been music director of the Toronto Symphony from 1965 to 1969. I warmly remember one of his very first concerts here in which he conducted the Fauré Ballade Op.19 for piano and orchestra with his wife, pianist Kyoko Edo wearing a kimono. Rather charming. In Boston, although he had studied and worked with Charles Munch, Ozawa began turning the Boston Symphony from a French orchestra under Munch and Monteux, into a heavier-sounding German orchestra. Members of the orchestra were not happy at all about this and expressed their displeasure openly. In fact, the orchestra's internationally recognized and esteemed concertmaster/assistant conductor, Joseph Silverstein eventually resigned in protest. DG has gathered all their Ozawa recordings, mainly with the Boston Symphony, also the Berlin Philharmonic and the San Francisco Symphony. Seiji Ozawa Complete Recordings on Deutsche Grammophon (DG 4836484, 50 CDs deutschegraommophon.com) is the result.
The repertoire is varied and colourful across the orchestral spectrum from Bartók to Ambroise Thomas. Collectors may be relieved to know there are no Beethoven symphonies, no complete Brahms cycle, no Mozart nor Rachmaninoff symphonies nor a complete Tchaikovsky. I'm thinking that these are staples already in one's collection. What is here are illuminated performances of selected concertos featuring soloists Anne-Sophie Mutter, Christoph Eschenbach, Itzhak Perlman, Krystian Zimerman, Joseph Silverstein, Rostropovich, Yundi Li and Gidon Kremer, together with first-desk soloists from the orchestra. Orchestral favorites from the repertoire that enjoy standing ovation performances include Symphonie fantastique, Brahms First and Second Symphonies, Mahler's First Symphony, Gaité Parisienne, a dozen popular favourites by Ravel including a ravishing Daphnis et Chloé with the Tanglewood Festival Chorus, Pictures at an Exhibition and Respighi's Roman trilogy, an opulent Scheherazade and lots of Tchaikovsky including the Fourth and Fifth Symphonies. There are also Prokofiev's complete symphonies, his Romeo and Juliet and more. And there is one complete opera! Offenbach's Les Contes d'Hoffmann recorded in Paris in 1986 with the Orchestre National de France. This effervescent, never-a-dull-moment, performance stars Plácido Domingo as Hoffmann; Edita Gruberova as Olympia, Antonia and Guilietta. James Morris is Miracle, Christa Ludwig is heard as the voice of Olympia.
Not every one of the 50 CDs contains a definitive performance of the work therein and some miss the mark entirely. This glowing collection happily defines the often-used term, Music for Pleasure, and as such is a great success and should keep giving joy to the listener.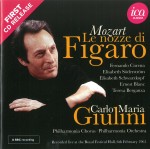 I had intended only to sample the sound of a first CD release of the February 6, 1961 performance of Mozart's Le Nozze di Figaro conducted by Carlo Maria Giulini with the Philharmonia Orchestra and Chorus recorded in performance by the BBC in London's Royal Festival Hall (ICA CLASSICS, ICAC 5157, 2 CDs naxosdirect.com). Time passed and I had listened to every last note on the two CDs, totally immersed in the genius of Mozart … his ineffable genius. Where did it come from? The soloists in this were, as Count Almaviva, Ernest Blanc; the countess was Elisabeth Schwarzkopf and Susanna was Elisabeth Söderström. Figaro was Fernando Corena and Teresa Berganza was Cherubino.
Fascinating and informative liner notes describe the evolution of Giulini's Figaro and an appreciation of the rest of the cast that includes Edda Vincenzi, Georgio Tadeo, Hugues Cuénod, Heather Harper and Piero Cappuccilli. This is a very special performance, a must for a Mozart lover, cleanly preserved in mono. Incidentally, there is a set of CDs from Walhall with substantially the same cast recorded live in 1971. It originated in the Royal Albert Hall. It does not display the brio of the RFH performance. Nor the fine recording.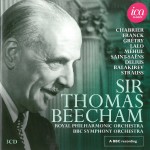 Another new release from ICA is a 3-CD boxed set of first CD releases of some interesting works conducted in typical flamboyant style by Sir Thomas Beecham (ICA ICAC 5168, 3 CDs naxosdirect.com). Briefly, for the benefit of those readers who don't know the name, Thomas Beecham (1879-1961) was recognized and respected worldwide as a very special conductor and a wit. He first appeared on the podium in 1905 conducting London's Queen's Hall Orchestra. He was knighted in 1916. He was highly esteemed for his Richard Strauss, Mozart, Sibelius and Haydn, and championed and edited Delius. All his many recordings were best sellers everywhere. His concerts often included shorter works which he called "Lollipops" and his one-liner witticisms are still quoted. Regard each of the three discs as a concert. CD1 opens with Chabrier's Gwendoline Overture, then Franck's Le Chasseur Maudit; Gretry's ballet Zémíre et Azor and the G-Minor Symphony by Lalo. The second disc has only three works; Etienne-Nicolas Méhul's Second Symphony; Saint-Saëns ballet music from Samson et Dalila including the Bacchanale and finally Delius' North Country Sketches. CD3 has the Balakirev First Symphony and Richard Strauss' Ballet Suite from Le Bourgeois Gentilhomme. These are all BBC recordings made between 1952 and 1959 in various venues for later use and foreign broadcasts. The two orchestras heard on these recordings are the BBC Symphony and the Royal Philharmonic, the orchestra founded in 1946 by the affluent Beecham because he could not return to the London Philharmonic where he reigned before WW2. If you don't know some of the works in the package, this may be an ideal way to expand your musical horizons.
A few years ago, SOMM released six CDs of previously unissued recordings of Edward Elgar in astounding new restorations by Lani Spahr. Spahr was given access to Elgar's private library of test pressings that had been sent to the composer by HMV for approval. Whether he approved them or not, they remained in Elgar's possession and are now archived by the Elgar Society. There were two sets issued, Elgar Remastered on four discs (SOMMCD 261-4) followed by Elgar Rediscovered on two discs (SOMMCD 0167). Included was Elgar conducting his two symphonies and cello concerto, all heard, thanks to Mr. Spahr, in genuine stereo played by Beatrice Harrison with Elgar conducting. Two fascinating collections, the 2-CD set being the more desirable.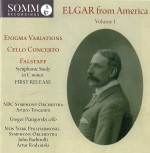 Spahr follows up with more Elgar on Elgar from America Vol.1 (SOMM ARIADNE 5005 naxosdirect.com). Arturo Toscanini is heard in a previously unreleased performance of the Enigma Variations live from an NBC Symphony concert on November 5, 1949. There are already other Toscanini Enigmas in the catalogue, from June 3, 1935 with the BBC symphony and also with the NBC. New to the catalogue is this 1949 performance and the sound is surprisingly vivid and articulate. The performance is interesting and devoid of any sentimentality in the Nimrod variations (played today to respect a death). Two valuable performances with the New York Philharmonic also occupy this disc, the Cello Concerto conducted by Sir John Barbirolli played with flair by Gregor Piatigorsky (1940) and Falstaff, a Symphonic Study in C Minor conducted by Artur Rodzinski (1943). Altogether, a satisfying release.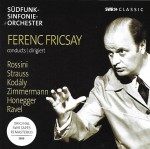 Ferenc Fricsay conducts Rossini, Strauss, Kódaly, Ravel, Honegger, Zimmermann (SWR CLASSIC, 19070CD, mono naxosdirect.com). New recordings, well, unpublished ones, conducted by Ferenc Fricsay are always a source of pleasure for his admirers. Most recent is the complete evening's concert with the Südfunk-Sinfonie-Orchester, Stuttgart, in the Villa Berg, from October 10, 1955.The audience (and now us) was treated to a program of enjoyable light classics. The evening started off with Rossini's overture to the seldom-heard, The Journey to Reims followed by Richard Strauss' Burleske, for piano and orchestra played by Margrit Weber. Kodály's Dances from Galánta were followed by Bernd Alois Zimmermann's Cabocio from his ballet suite Alagoana. Weber returned for Honegger's Concertino for Piano and Orchestra. A high-spirited performance of Ravel's Boléro was the rousing finale to the evening's program. That orchestra and other radio orchestras of the day and since are brilliant ensembles, being at least the equal of the "philharmonics." The audience in this live recording is unheard and the dynamic sound is excellent.