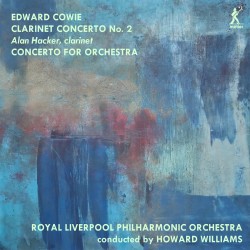 Edward Cowie – Concerto for Orchestra; Clarinet Concert No.2
Alan Hacker; Royal Liverpool Philharmonic Orchestra; Howard Williams
Metier msv 92108 (naxosdirect.com/search/809730210822)
Hearing Edward Cowie's Clarinet Concerto is like opening the door into a room where a glorious family tragedy is unfolding; one can observe the mayhem without interrupting it. Three abrupt fortissimo pitches in the low brass and timpani, from lower to higher, initiate the action with an interrogative accusation presupposing the worst possible answer. And the arguments devolve.
Clarinetist Alan Hacker, with his excellent technique, portrays an articulate yet seemingly incoherent character. At the midpoint, the centre of this labyrinth, one encounters the motivation behind the arduous musical journey of the past century: nostalgia for tonality, and a sinking suspicion that we can't get it back. Carl Nielsen described, in his own clarinet concerto, the disintegration of a personality; my sense is that Cowie is doing something similar in a more daring vein. In fact, the composer is inspired by natural settings, most especially the ocean. Perhaps the coda conveys the end of a storm, and not what I hear: dénouement following personal crisis.
The second piece on the disc is the Concerto for Orchestra. As in the introduction of the other work, Cowie favours jangle and jolt, though here with somewhat less of the latter. Following the introductory passage is an extremely virtuosic section for all the woodwinds, then the brass interrupt to announce a matching answer from the strings. Cowie's strokes are clear and precise, his expression of sound via the orchestra, confident. He reminds me of Alfred Schnittke in his exploitation of quasi-tuned percussion instruments to undermine the security of pitch to which we are so accustomed.
The material lasts just under 45 minutes in total. The recording was made in 1983-84, by the excellent Royal Liverpool Philharmonic under Howard Williams and was originally issued on LP by Hyperion.