William Shakespeare, who died 400 years ago, remains the best known and most illustrious playwright in the English language. Depending on how they are counted, he had a vocabulary in excess of 20,000 different words which is remarkable, considering that today a well-educated university graduate is presumed to know some 30,000 words. Shakespeare had a written vocabulary of 17,000 to 20,000 words, a tenth of which he coined himself. He could very well be the first English-language metonymist with new words such as bubbles. The first English dictionary was published in 1604 as Robert Cawdrey's A Table Alphabeticall, a book of some 2,500 words, many of Shakespeare's invention.
Review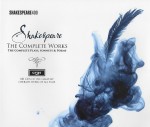 For this 400th anniversary Decca has re-mastered and re-issued the celebrated Argo recordings as Shakespeare – The Complete Works, performed by the Marlowe Dramatic Society and Professional Players (4783506). The Marlowe Society was formed in 1907 as a student drama society of Cambridge University. For these Argo recordings made under the auspices of the British Council between 1951 and 1964, many familiar voices appear in both leading roles and lesser parts in the full cast recordings of 37 plays, also 154 sonnets and four narrative poems. Recognized voices include John Gielgud, Ian McKellen, Peggy Ashcroft, Derek Jacobi, Michael Hordern, Peter Pears, Ian Holm, Margaretta Scott, Prunella Scales, George Rylands, Toby Robertson, Clive Swift, Roy Dotrice, Geraldine McEwan, Miles Malleson, Richard Marquand and scores of others in roles of various importance. It is clear that correct enunciation and inflection are of predominant importance and sometimes dramatic tension may suffer in the pursuit of flawless articulation. However, the prime reason for assembling these enactments and recitations is to have all Shakespeare's timeless words and his uses of those words at your fingertips. The impressive, luxury-boxed set of 100 CDs and an illustrated eight and a half by ten inch 224-page book that includes full cast listing, analysis of each work and fascinating engravings uniquely fills the bill. Could be a very nice seasonal present for the family.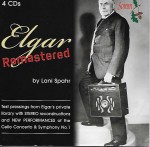 Elgar Remastered (SOMMCD 261-4) is a new set of recordings of Edward Elgar conducting his own works. One might have expected new mastering of selected items from the extensive EMI archives of Elgar's own performances. However, this package of four CDs is a treasure trove of remarkable unissued performances derived from boxes of test pressings sent to Elgar for his approval or not. It seems that Elgar did not always return them and they became part of his estate. Arthur Reynolds of the American Elgar Society secured them and they remained untouched until recently when audio restoration engineer Lani Spahr was given permission to digitalize them and evaluate the commercial possibilities. Lo and behold, through today's digital restoration, alchemy performances emerged that were, as they say, to die for. But there is more! In many sessions, HMV had their back-up microphones and disc cutters set up at a distance from each other in front of the orchestra. With today's technology they could become the two channels of a stereo recording. With the vagaries of the exact speeds, the revolutions per minute between two lathes at a nominal 78 rpm presented a very real problem. This and other obstacles are explained in some detail by Spahr in the enclosed 27-page booklet.
From the first notes it is very clear that the theory was correct and now we may all hear, in true stereo, the Cello Concerto played by Beatrice Harrison recorded in 1928 in Kingsway Hall with Elgar conducting the Royal Albert Hall Orchestra. What immediately stands out is the clearly heard figures in the winds, not featured but clearly heard. The dynamics are as they should be. Included on this first disc are shorter pieces including…no, featuring the Cockaigne Overture with the BBC Symphony Orchestra recorded in 1933 in Abbey Road, in mono transitioning to stereo. This truly inspired, grand performance in great sound that still astounds after many hearings has to be the best on record by anyone.
Throughout the set is a bounty of alternate takes of works ranging from a complete 1930 First Symphony and lots more of the cello concerto; two recordings, the 1919-20 acoustic and the 1928, plus many favourite shorter works. Incidentally, alternate takes does not mean second rate. These were all direct-to-disc and uncorrectable for any slight reason. Or Sir Edward simply put them aside unheard.
I should have commented earlier about the qualities of the sound achieved by Spahr. I have no idea how he does it but the effect is to liberate and clarify what is hidden in the originals rather than the all-too-common practice of removing, or attempting to reduce, the artifacts while leaving the sound as is. Spahr's restorations are revelations.
After all the above is said and done we have a must-have collection for the composer's die-hard devotees and a should-have for others.
José Iturbi was born in Valencia, Spain, on November 28, 1895, and died, world famous, in Los Angeles, California, on June 28, 1980. He studied piano at the Valencia Conservatory, graduating at the age of 13 with the highest honours. He continued his studies in Barcelona and then at the Paris Conservatoire, where he was awarded first prize for piano. He studied harpsichord technique with Wanda Landowska. From 1919 to 1923 he was head of the piano department at the Geneva Conservatory where he was such a strict teacher that he was referred to by his pupils as "The Spanish Inquisition." He made his American debut in 1929 in a Carnegie Hall recital and from 1936 to 1944 he was music director of the Rochester Philharmonic Orchestra. In 1943 he was discovered by MGM for whom he appeared as "Mister Iturbi" in nine major feature films in addition to recording the piano solos for Cornel Wilde to mime as Chopin in the 1945 Columbia Picture, A Song to Remember. He toured extensively in his later years (I heard his Mozart in Stratford). His colleagues regarded him most highly. Julius Katchen called him "the greatest Mozart pianist of his time" and William Kapell revered Iturbi's Mozart, describing it as "the evenest playing I know." Iturbi's recordings for RCA began in 1933 with Scarlatti and concluded in 1952 with Granados, via Bach, Beethoven, Mozart, Chopin, Debussy, Liszt, Rachmaninoff, de Falla, Albéniz and Morton Gould, etc. The transfers from original sources to digital by Mark Obert-Thorn are full-bodied and convincing. Jose Iturbi – The Victor and HMV solo Recordings (Appian APR 7307, 3 CDs, 11 page biographical booklet).
Iturbi's distinctive, articulate playing, admired by Toscanini, is instantly recognizable. I wouldn't claim that every track here is definitive but all 53 performances, a cross-section of popular classical works, are congenial and played with authority, without any eccentricities that could be tiring upon repeated hearings. Very fitting to have "Mister Iturbi" back in the stores (as we used to say).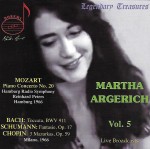 On June 16, 1966, the year after she won the International Chopin Piano Competition at the age of 25, Martha Argerich played the Mozart Piano Concerto No.20 in Hamburg with the NDR Symphony Orchestra conducted by Reinhard Peters. Of course many pianists of that age can and do perform this concerto but as we know, technique is only the first essential and as is immediately demonstrated, Argerich exuded such profound sensitivity and inner beauty to offer an extraordinary realization of this deservedly well-loved concerto. On Martha Argerich Volume 5 (DHR-8048), DOREMI has issued this dream performance in excellent sound. From a recital three months earlier, on March 14 in Milan, she inspires us with Bach's Toccata in C Minor BWV911, Schumann's Fantasie in C Major Op17 and Chopin's Three Mazurkas Op.59. Meticulous engineering throughout makes this very a desirable release for collectors.