The Vienna Philharmonic Orchestra as a body does not appoint a music director in the sense of, say, the Berlin Philharmonic and Simon Rattle, the Boston Symphony and Andris Nelsons or the Toronto Symphony and Peter Oundjian where the maestro moulds the orchestra to his preferences. One only has to look at the Boston Symphony. Under Monteux and Munch it was a French-sounding orchestra, but Ozawa wanted a German orchestra, which he achieved at the expense of losing the concertmaster who resigned in protest. Think back to the Cleveland Orchestra under George Szell, whose imprint was on every performance regardless of who was on the podium. By contrast, in the Vienna Philharmonic Orchestra, music directors are guests invited by the players, who are all drawn from the ranks of, and continue to be permanent members of, the Vienna State Opera.
Some time ago The WholeNote's publisher David Perlman and I interviewed Clemens Hellsberg, retiring chairman of the Vienna Philharmonic, in his hotel suite. I remarked that the sound of the Vienna Philharmonic is most often unmistakable and as far back as I could remember it has always sounded like the Vienna Philharmonic. Hellsberg was only too delighted to agree and explained why. The players are well aware of this and maintain the highest standards so that after a musician leaves the orchestra his or her replacement is chosen by the orchestra's elected board. Candidates are selected from players with at least three years' experience playing in opera and ballet and who are well aware of the orchestra's heritage and responsibility. Many of the orchestra's instruments, in particular the winds, are made especially for them to produce the traditional timbre. As for their string sound, Hellsberg told us that they do not look to musicians from Germany because, as I recall, they do not have the Viennese sensibilities. Hungarians are most likely to be a match.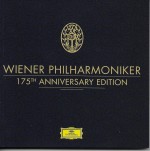 To honour their 175th anniversary, Deutsche Grammophon has compiled a program of outstanding performances selected from half a century of recordings, 1951 to 2004, of works from Beethoven to Weber conducted by maestros from Wilhelm Furtwangler to Christian Thielemann: Wiener Philharmoniker 175th Anniversary Edition (DG 4797090, 44 CDs and one DVD). Each disc is sleeved in a replica of the original issue with a printed spine. The CDs are arranged by composer, making the selection of a work easy. Looking only for an artist will take a little longer. Some recordings are from the ORF (Austrian Radio) archives. There is no duplication of repertoire. It was said of Bruno Walter that he could make any orchestra sound like the Vienna Philharmonic, but here he is with the Vienna Philharmonic in November 1955. Recorded by the ORF in treasured live performances in fine sound, here are Mozart's Prague Symphony and his friend Mahler's Fourth with Hilde Gueden. Another conductor no longer with us is Karl Bohm, who is heard in Mozart's Masonic Funeral Music and Symphonies 38 through 41, also some Waltzes and Polkas by the Strauss family. The late Pierre Boulez helms the Mahler Fifth and the Bruckner Eighth, both from 1966. Leonard Bernstein has only two discs, Beethoven's Fifth and Sixth and the Haydn Symphonies 88 and 92. James Levine does better with the four Brahms symphonies, Tragic Overture and the Alto Rhapsody (Anne Sofie von Otter), Mozart's Eine kleine Nachtmusik, Posthorn Serenade, Smetana's complete Ma Vlast and music from The Bartered Bride plus suites from The Nutcracker, Sleeping Beauty and Swan Lake. Mention must be made of the Brahms Symphonies: except for the First which was recorded live in Salzburg in 1993, the rest were recorded live in the Musikverein in 1994/95. Collectively these are superlative performances, a very rewarding meeting of two cultures, each drawing out the very best of the other.
Von Karajan has four discs: the Brahms German Requiem, the Dvořák Eighth Symphony, the Mozart Requiem and a Wagner disc with Tannhäuser Overture, Siegfried Idyll and the Prelude and Liebestod from Tristan. Surprised to see no Richard Strauss from Karajan, but the repertoire is safe in the hands of Thielemann, Maazel and Previn. Sorry to see Kubelik with only the Beethoven Seventh. Anyhow, there's lots more gems in this box, including the DVD of the joyous 1989 New Year's concert conducted by Carlos Kleiber. Check the entire contents at arkivmusic.com.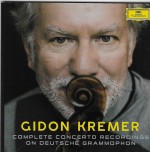 Gidon Kremer is the violinist who was much talked about in 1982 for a recording he made of the Beethoven Violin Concerto playing new cadenzas by Alfred Schnittke. Opinion was that the writing was outrageously anachronistic and that it disfigured the work of the master who would not - could not - write such un-music. Few laid some guilt on conductor Neville Marriner. That was 35 years ago and no one talks about it today. You can listen to that recording in the recently issued boxed set Gidon Kremer Complete Concerto Recordings on Deutsche Grammophon (DG 4796316) containing 22 CDs, each sleeved in original cover art.
Although Kremer had won important competitions, he did not enjoy the recognition that he felt he deserved. He certainly was a master with a fine technique but somewhat lacking in feeling. However, he overcame that as he played with Marta Argerich, Kim Kashkashian, Hélène Grimaud and others. His career blossomed after he was discovered by von Karajan, who recorded the Brahms Violin Concerto with him in 1976. As I recall, the performance with the Berlin Philharmonic on EMI was a rather wooden affair. Nevertheless Kremer's career took off, and he went on to champion esoteric works by composers of the day in addition to playing and recording the standard repertoire. This 22-CD set houses acknowledged performances with the world's great orchestras and conductors of the well-known concertos and concerted works by Bach, Bartók, Berg, Beethoven, Brahms, Chausson, Liszt, Mendelssohn, Milhaud, Mozart, Paganini, Schubert, Schumann, Shostakovich, Tchaikovsky (Maazel, BPO) and Vivaldi. In addition there is a unique collection of performances of concertos by many of the worthiest 20th-century composers, including Philip Glass, Schnittke, Sofia Gubaidulina, Ned Rorem, Arthur Lourié, Arvo Pärt, Giya Kancheli and quite a few more. Check arkivmusic.com for the full details of this distinctive collection.
As an aside, one of my very favourite recordings, one which I listen to often, is the transcription of the Shostakovich 15th Symphony for violin, cello, piano, celesta and percussion played by Kremer and his Kremerata Musica on DG. It is absolutely stunning in every respect. When I was in the business, I sold it with a money back guarantee, and never once did a copy come back. Just checked Amazon US, and it is available under US$20 on a DG twofer as filler on a Shostakovich/Barshai set.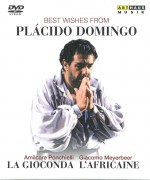 Best Wishes from Plácido Domingo is a well-made presentation box containing three DVDs of two complete operas starring the charismatic tenor in two of the 120 operas in which he has appeared over his operatic career (Arthaus Musik 109327). No, not Puccini or Verdi but Ponchielli's La Gioconda, recorded live in Vienna in 1986, and Meyerbeer's L'Africaine live from San Francisco in 1988. In the Ponchielli he sings Enzo with Eva Marton as Gioconda and Matteo Manuguerra as Barnaba. The orchestra, chorus and ballet of the Vienna State Opera is conducted by Adam Fischer. L'Africaine (on two DVDs) stars Domingo as Vasco da Gama, Shirley Verrett as Sélika, Ann Swenson as Inès Ruth and Justino Diaz as Nélesko. The orchestra, chorus and ballet of the San Francisco Opera are conducted by Maurizio Arena. The performances are self-recommending, and the quality of the video is in keeping with the standard of the time.