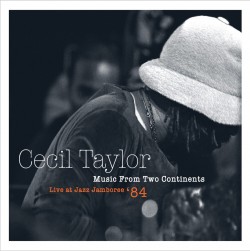 Music from Two Continents: Live at Jazz Jamboree '84
Cecil Taylor
Fundacja Słuchaj 16/2021 (sluchaj.bandcamp.com)
The cataclysmic pianist and composer Cecil Taylor frequently worked with large bands, his activities with student ensembles and workshop groups shaping generations of improvising musicians. His 1968 recording with the Jazz Composers Orchestra was a key event in large-scale free jazz, while his 1988 Berlin orchestra fed his own development as well as European free improvisation; however, there may have never been a band quite as apt as the compact, shifting Orchestra from Two Continents with which he performed in Europe in 1984. This performance from Warsaw presents an 11-member version, assembling many of the most distinguished members of the international free jazz community of the era.
Like many of Taylor's works, this hour-long piece had a ritualistic character, incorporating chanting and shouting. Here, movements with cries, hollers and snippets of song, hinting at mysteries and suggesting primordial rites, alternate with longer instrumental passages of motivically organized improvisation. These segments touch on Taylor's deep roots. With the reeds loosely assembling around a blues-drenched riff, a passage gradually matches the loose, swarming intensity of a Charles Mingus band; a keening balladic segment spontaneously expands to the harmonic richness of Duke Ellington's orchestra.
As with Mingus and Ellington bands, this orchestra thrives on singular instrumental voices, including the improbably sweet tone of alto saxophonist Jimmy Lyons; the brooding, blues-drenched roar of tenor saxophonist Frank Wright; the dense, forceful sound of bassist William Parker; and the brassy splendour of trumpeters Tomasz Stańko and Enrico Rava.