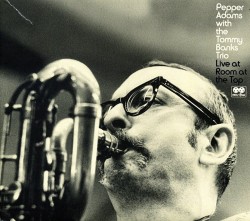 Live at Room at the Top
Pepper Adams; Tommy Banks Trio
Reel to Real Recordings RTR CD-008 (cellarlive.com)
Undoubtedly the best – if not the only – exceptional jazz session featuring a member of the Canadian Senate, this set includes pianist Tommy Banks, who was in the Upper House from 2000-2011. While this date took place in 1972, Banks (1936-2018) exhibits the supportive and organizational skills that made him one of Alberta's most accomplished musicians for years.
Of course the adaptive skills of Banks, bassist Bobby Cairns and drummer Tom Doran were stretched to the maximum on backing baritone saxophonist Pepper Adams (1930-1986), then a sometime visitor to Edmonton's clubs, arguably the U.S.'s pre-eminent hard bopper on his instrument. Making the most of the trio's rhythmic and improvisational talents, Adams elevates this program of two originals and five jazz-songbook standards to ferocious extended interactions. During Oleo, for instance, his unbroken line of earthy and empathetic variations is an object lesson in how to make the familiar exclusive. Banks' speedy bop timing with blues underscoring keeps the piece moving. Here and elsewhere, excitement is torqued by thumping bass and crashing drum breaks, with both trading fours with the soloists. Sticking to mid-range tones, Adams uses squeaks and glissandi to advance his parts with the brightness of a higher-pitched instrument. The few times he emphasizes the baritone's glottal rasp are during stop-time sequences. The resulting excitement gets added oomph when Banks' solo slyly interjects song quotes.
Judging from their protracted applause the audience was impressed by the music. You can be too.