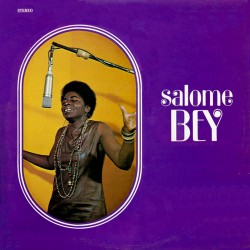 Salome Bey
Salome Bey
Independent (li.sten.to/salomebey)
The commemorative stamp recently issued by Canada Post is indicative of the cultural, societal, musical and artistic contributions that Salome Bey (1933-2020) made to Canada – and to the entire Globe, for that matter. An American-born, Canadian singer-songwriter and actress, Bey first emerged on the international scene as part of Andy Bey and the Bey Sisters along with her sister Geraldine and brother Andy. With the trio, Bey embarked on a long recording and performing career and soon became known as "Canada's First Lady of the Blues." It was 52 years ago that this stunning, eponymous recording was released under the auspices of the Canadian Talent Library. Now in re-issue, everyone can finally experience the thrillingly wide range of Bey's musical and interpretive talent, which embraces material as far flung as Hoagy Carmichael's Stardust and Gilles Vigneault's Mon Pays. Also included in the collection is original material from Rick Wilkins and Russ Little.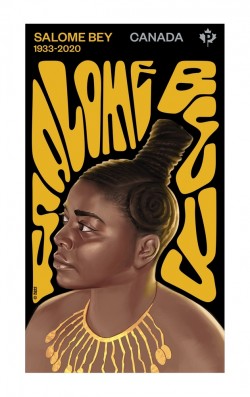 The ten choice selections include Rick Kardonne's Hit the Nail Right on the Head, which is a delightful pop/jazz tune, firmly rooted in the early 1970s tradition, replete with a beautiful arrangement involving a complete orchestra. Bey swings, bobs and sails throughout this thoroughly delightful number. One of the absolute stunners here is Bey's intimate rendition of Stardust, enhanced with a sumptuous, string-laden arrangement and gorgeous piano and guitar work. Also, the soulful Underground Railroad Station is a bluesy tribute to the fathers and mothers of abolition, who led so many to freedom in Canada.
Other highlights include the sunny, swinging, upbeat love song, Muy Caliente No! (Love Our Lives Away), the clever, stirring medley of Anthony Newley and Leslie Bricusse's Once in a Lifetime and Dory Previn's You're Gonna Hear from Me. Additionally, Gershwin's But Not For Me boasts a magnificent guitar accompaniment, and Bey's voice at her most lyrical, moving and sumptuous.