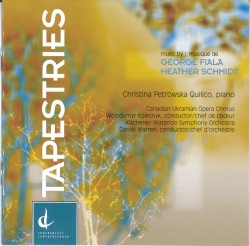 Tapestries
Christina Petrowska Quilico; Canadian Ukrainian Opera Chorus; Kitchener Waterloo Symphony Orchestra; Daniel Warren
Centrediscs CMCCD-17011 www.musiccentre.ca
Christina Petrowska Quilico's significant contributions to the recorded contemporary Canadian piano repertoire continue to impress. As David Perlman noted in October's WholeNote, her 26 CDs to date include many commissions. Both works on this new Centrediscs release were written for her and recorded live.
Canadian composer George Fiala's three-movement Concerto Cantata for piano and chorus celebrates the 1988 Millennium of Christianity in Ukraine. Not only Quilico's combination of sensitivity and virtuosity, but also Wolodymyr Kolesnyk's informed conducting of the Canadian Ukrainian Opera Chorus, convey the work's nobility of theme. Fiala's combination of modernism and Ukrainian choral material, along with some incursions of late romantic piano writing, allow for an ample range of expression. I particularly like the high bell-like piano sounds in this work, even more so when actual chimes join in evoking the magnificent bells of Eastern European churches.
Heather Schmidt is a remarkable Canadian composer-pianist who early on established an international profile. Her musical language is somewhere in the same galaxy as that of Corigliano, Schwantner, or Hétu, and her individual voice is still developing. In the Piano Concerto No.2 I find the second movement's intensity and orchestration particularly powerful. Sense of structure and pacing, idiomatic instrumental writing, and harmonic control are all notable. Making it sound easier than it is, Quilico's performance in partnership with the fine K-WSO led by Daniel Warren is colouristic and well-paced, justifying indeed the disc's title, "Tapestries."
Concert Notes: The Canadian Music Centre (www.musiccentre.ca) hosts the launch of "Tapestries" in a public event on November 2. Christina Petrowska Quilico performs Grieg's Piano Concerto with the Kindred Spirits Orchestra at the Markham Theatre for the Performing Arts on November 5.