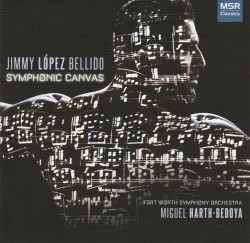 Jimmy López Bellido – Symphonic Canvas
Fort Worth Symphony Orchestra; Miguel Harth-Bedoya
MSR Classics MS 1737 (msrcd.com)
Two novels, written nearly 400 years apart, inspired these two works, both from 2016, by Jimmy López Bellido (b.1978), composer-in-residence of the Houston Symphony.
Miguel de Cervantes's final literary creation described two Scandinavian nobles' adventurous pilgrimage to Rome. López Bellido says his Symphony No.1 – The Travails of Persiles and Sigismunda wasn't intended to portray the novel's events, but "to convey [its] spirit, greatness and humor." Nevertheless, the four-movement, 45-minute symphony contains many dramatic "events" – eerie forebodings leading to garishly scored, violent climaxes. The Latino-tinted third movement provides the only "humor" – jazzy and snarky.
In December 1996, Túpac Amaru terrorists took hundreds of people hostage after storming a reception at the Japanese ambassador's residence in Lima, Peru, López Bellido's native city. His 2015 opera, Bel Canto, was based on Ann Patchett's 2001 novel of the same name, itself based on the four-month-long hostage crisis. The three-movement, 30-minute Bel Canto – A Symphonic Canvas, encapsulates the opera. Perú, Real and Unreal begins with the Overture and ends with the climax of Act I, the shooting of diva Roxane Coss' accompanist. La Garúa depicts an enshrouding fog and several hostages' plaintive emotional outpourings. The End of Utopia derives from the final scene, the attack that frees the hostages and Coss' anguished aria, here "sung" by a trumpet, over the desolation.
Both works show López Bellido has clearly mastered the knack of building suspense and effectively ending it with climaxes of exceptional sonic power and brilliance.