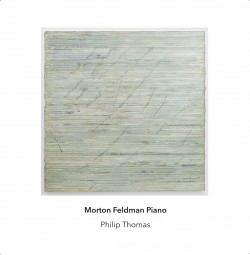 Morton Feldman Piano
Philip Thomas
Another Timbre at144x5 (anothertimbre.com)
2019 marks the 20th anniversary of John Tilbury's signal All Piano, a four-CD set approaching almost all of Morton Feldman's piano music. Here the younger Philip Thomas presents a five-CD, six-hour set of even more of these works. There's a direct lineage: in 2014, the two pianists recorded Two Pianos and other pieces, 1953-1969 (also on Another Timbre), covering Feldman's works for multiple pianos and some for pianos with other instruments.
Thomas explores the breadth of Feldman's solo piano music, omitting only a few student pieces from the 1940s, while resurrecting others, like an archival minute-long Untitled piano piece, dated 1947, for a glimpse of Feldman's nascent vision. There are also transcriptions of two pieces with lost scores, including the piano part in the soundtrack for the film Sculpture by Lipton.
Thomas brings a reflective depth to the work, emphasizing the composer's preoccupation with sonic detail. Although Feldman didn't alter the piano's physical character like his colleague John Cage, he explored its sonic character and notation with a unique depth, including silent fingerings to create harmonic resonance, varied approaches to grace notes and allowing sounded notes to decay in full, the sounds isolated and appreciated individually.
While sometimes developing a kind of dislocation – even writing two-hand parts as if they were synchronous, then instructing that they be played separately – Feldman put a new emphasis on attack, duration and decay. There's great detail in Thomas' 52-page liner essay, including his description of a year-long recording process with producer Simon Reynell that emphasizes the music's sound from the performer's perspective and suggests the albeit quiet music be played loud enough for all its detail to emerge.
Landmarks and masterworks will draw attention first. Disc One creates an immediate overview, gathering significant pieces that run throughout Feldman's career and last between 22 and 27 minutes, from 1959's diverse Last Pieces, to 1977's Piano with its greater formal concerns and his final Palais de Mari (1986), with its geometric construction and enduring resolution. Still more commanding are the late and large-scale Triadic Memories and For Bunita Marcus, vast explorations of form and scale that can suggest compound bells.
Feldman's relative miniatures, however, are just as significant: the collaborative nature of his music, including unspecified durations and sequences, clearly inspires Thomas. It's most notable in Intermission 6 (1953), with the performer determining order and repeats. Thomas provides three versions of the piece, one in the published score, two of his own design, one of those with repetitions, the three running from less than five to over 11 minutes.
Feldman produced one of the most resonant and intimate bodies of 20th-century piano music, conditioning and opening time in the process. Philip Thomas is an ideal collaborator.