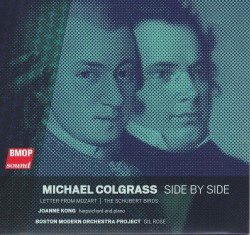 Michael Colgrass – Side by Side; Letter from Mozart; The Schubert Birds
Joanne Kong; Boston Modern Orchestra Project; Gil Rose
BMOP Sound 1064 (bmop.org)
You receive a letter from "your favourite composer" signed "Your friend, Mozart," requesting a 20th-century take on his style using extra percussion which "in my day wasn't dignified." The resulting 15-minute Letter from Mozart (1976) is a wonky, percussion-heavy series of dreamlike, stream-of-unconsciousness episodes, a drug-induced merging of the 20th and 18th centuries, requiring two conductors to avoid complete chaos. It's great fun!
Side by Side (2007) presents Joanne Kong playing both piano and harpsichord, set 90 degrees to each other. To balance the disparate instruments, Colgrass first muted the piano strings, then amplified both to compete with the orchestra. Colgrass never severed his roots as a jazz drummer, so the 24-minute concerto exploits the percussive qualities of both keyboards and orchestra.
Colgrass wrote that The Schubert Birds (1989) is "a crazy quilt of theme and variations… based on Franz Schubert's Kupelweiser Waltz, a little-known piano piece." The title refers to "Schubert as a bird who spent his life singing, surrounded by a circle of others who… sang with him." Like the CD's other two works, the 19-minute piece revels in kaleidoscopic fragmentation and glittering sonorities.
The prolific, always-inventive Colgrass, the 1978 Pulitzer Prize-winner who died at 87 this past July, is less well-represented on disc than he should be. A Chicago native, he'd lived in Toronto since 1974, yet titled his 2010 memoir Adventures of an American Composer. Please, record companies, give us more CDs of the adventurous Michael Colgrass!