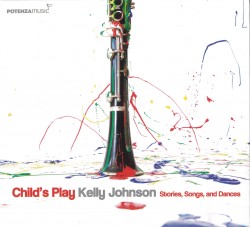 Child's Play – Stories, Songs and Dances
Kelly Johnson
Potenza Music PM1014
www.potenzamusic.com
The crossover set of American contemporary music which features solo clarinet and at the same time appeals to the young (the post-infant, pre-tween) crowd, must be very small indeed. To hold any appeal for wee ones, the music must have a degree of bounce and action. These qualities can be found in the more rhythmically intricate offerings on Child's Play, a well-executed selection of challenging pieces recorded by Kelly Johnson.
As judged by my own four year old, the more action the better. He lost interest quickly during the more languid pieces, and had no time at all for the cutesy revisionist nursery tales called Story Hour, by composer Phillip Parker. No wonder. Poet Sara Hay ought to know that irony is a tricky sell with children. Kids laugh at The Simpsons, but most only start really getting the humour when they leave childhood behind.
Johnson has a deft technical ability, her rhythm is tight and her tone fluid. She has a good stable of collaborators, notably Drew Irwin as the violinist in the opening duo. Another work by Phillip Parker, Merry Music sounds like Bernstein and Milhaud had drinks and then went dancing. Parker's Grooves is also successful if once again derivative, this time of jazz and rock styles (Sultry Waltz should have been called "Take Five Plus One").
Eric Mandat's piece The Moon in My Window was inspired by one of the great understated works written for the disc's target demographic: Harold and the Purple Crayon, by Crockett Johnson. Mandat's music is direct and fun for kids, and danged difficult to boot. It features extended techniques that Johnson (the performer, not the children's author) handles with only occasional trouble, mostly with impressive ease.
Packaging notwithstanding, this is not so much a children's disc as it is a resource for clarinettists looking for new and difficult recital repertoire from the United States. Is it just me or does most of it sound the same?