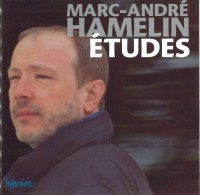 Marc-André Hamelin - Études
Marc-André Hamelin
Hyperion CDA67789
Up to now, the Montreal-born Boston-based pianist Marc-André Hamelin has been rightly regarded as something of a pianistic supernova, a musician whose technical prowess and innate musicality have gone hand in hand with his efforts at promoting piano music by lesser-known composers. But with this new Hyperion recording, titled simply "Études" we see him in a new role, that akin to a 19th-century "pianist-composer." The CD is comprised of original material written over a 24- year period, featuring 12 Etudes in all the minor keys, Little Nocturne, five movements from a set of pieces titled Con intimissimo sentimento, and finally, a Theme and Variations.
Of the twelve études, eight are based on works by other composers, along the lines of Godowsky's re-creations of the 24 Études by Chopin. For example, the first in the set, written in 1992, is based on the Chopin Étude Op.10 No.2, while the third is a clear adaptation of the famous Liszt-Paganini étude La Campanella – but very much taken a step further! These pieces are breathtaking in their virtuosity – amateur pianists such as myself can only marvel at the brilliant technique displayed here, which at the same time demonstrates such subtle nuances of tone and colour. The Little Nocturne from 2007 provides a languorous contrast to the pyrotechnics of the études, while the pieces from Con intimissimo sentimento are quietly introspective, showing a wholly different side to Hamelin's creative style. Over the years, more than a handful of composers have written music expressing their love for a "significant other" and Hamelin is no exception. His Theme and Variations ("Cathy's Variations") is a poetic and intimate love-song honouring his fiancée Cathy Fuller.
For anyone who is sceptical about "pianists who compose" this disc is a highly worthy addition to the catalogue. We were always aware of Mr. Hamelin's supreme gifts at the keyboard, but now he has now shown us another dimension of his talents.