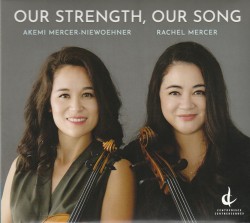 Our Strength, Our Song
Akemi Mercer-Niewoehner; Rachel Mercer
Centrediscs CMCCD 27719
(cmccanada.org)
In a recent issue of The WholeNote, David Jaeger wrote at length about cellist Rachel Mercer. Jaeger produced this new release with Rachel and her violinist sister Akemi Mercer-Niewoehner playing six duo works by Canadian women composers.
Violet Archer's Four Duets for Violin and Cello (1979) is a four-movement work composed "especially" for violinist Tom Rolston and his then 12-year-old cellist-daughter Shauna. Family fun galore, as the opening Brooding movement starts with a slightly grim low-pitched cello mood leading to a more reassuring violin line. Love the upbeat plucks in the dramatic Paean fourth movement. More tonal rhythmic sounds in Jean Coulthard's Duo Sonata for Violin & Cello (1989) as repeated patterns and plucks unite this orchestral-sounding piece. Barbara Monk Feldman's Pour un nuage violet (1998) is a welcome change of pace with nature-inspired subtle rhythmic original sounds.
The Mercer sisters are phenomenal in their passionate performances of their commissioned works. Rebekah Cummings' Our Strength, Our Song (2018) features conversational counterpoint, high and low staccatos, and dynamic shifts written in traditional Bulgarian folk-singing style. Jocelyn Morlock's (2019) Serpentine Paths' use of intense sound effects like high violin and low cello pitch contrasts, fast intense and slower passages, is a race to the performance finish line! Alice Ping Yee Ho's Kagura Fantasy (2018) is an exciting listen with contemporary string effects, theatrical feel, dance-like sections and Asiatic folk-music influences.
The Mercer sisters are inspirational to both musicians and families alike.