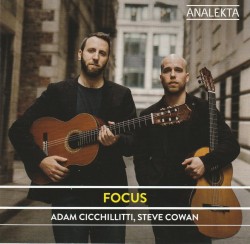 Focus
Adam Cicchillitti; Steve Cowan
Analekta AN 2 8792 (analekta.com/en)
Canadian guitarists/friends Adam Cicchillitti and Steve Cowan formed this duo in 2015. Their dedication to performing, commissioning and collaborating with living composers from contemporary classical to popular music styles is heard here in five works by Canadian composers.
A wide cross-section of styles can be heard. The duo's Canada Council commission Focus (2018) by Harry Stafylakis is a unique mix of pop, jazz, and classical. The first movement is more pop-sounding while the more classical second movement, based on a theme from Beethoven's seventh symphony, opens with a single-pitch melody and develops through contrapuntal writing to a strumming rock-like closing. Andrew Staniland's Brazilian-inspired Choro: the Joyful Lament for Villa-Lobos (2017) is a virtuosic rhythmic work. Cicchillitti and Cowan's 2017 arrangement of José Evangelista's five-movement Retazos (2010) is impressionistic, with reflective, haunting, mellow tonal melodies and contrasting florid fast runs. Their commission Ombres et lumières (2017) by Patrick Roux has a grief-stricken lyrical first movement and a contrasting faster rock-groove-flavoured second movement. Originally for two harps, composer Jason Noble impeccably arranged his more atonal programmatic two-movement River and Cave for the duo in 2018. The opening water rippling effect is achieved by delicate repeated pattern playing. The slower low-cave section emulates cave echo effects with lower strums, longer silences and staccato drips.
Cicchillitti and Cowan are fabulous duo guitarists who perform together to perfection in all styles. No wonder this recording is on CBC's Top 20 Canadian Classical Albums of 2019!