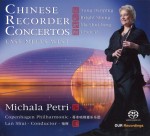 Chinese Recorder Concertos
Michala Petri; Copenhagen Philharmonic; lan Shui
OUR Recordings 6.220603
This remarkable CD presents the premiere recordings of four concertos by living Chinese composers, two of whom currently work in the USA. The disc opens with Tian Jianping's Fei Ge (Flying Song), originally written in 2002 as a concerto for dizi (Chinese bamboo flute) and pan-Asian instrumental ensemble. This transcription by the composer for western orchestra and recorder, on which Petri eloquently evokes the dizi in tone and effect, works beautifully with playing of the highest order from both orchestra and soloist.
Bright Sheng's evocative and strikingly beautiful Flute Moon is more a full orchestral work than a concerto, and Petri plays solo parts originally assigned to the flute and piccolo. The piece revels in a rich array of orchestral colours, dazzling musical gestures, and dramatic shifts of mood. The three-movement Bang Di Concerto by Ma Shui-long is the composer's best known composition, and is an extraordinarily effective fusion between Chinese and western musical languages. It receives an utterly virtuosic performance from all involved. Written for Petri by Chen Yi, The Ancient Chinese Beauty draws inspiration from Chinese figures, script, and flutes. The second movement, particularly in its evocation of the ancient xun or large Chinese ocarina, is particularly impressive.
For several decades now Michala Petri has been one of the busiest and most familiar recorder players to audiences around the globe, and with programs such as this she continues to do great things beyond the recorder's more typical boundaries. She seems eminently at home here, making her own distinct music in a fascinating project designed "to creatively collaborate in an international musical dialogue."
Kudos to her, to the wonderful Copenhagen Philharmonic and conductor Lan Shui – and to the composers of these wonderful pieces.
Concert Note: Chen Yi is the featured composer at this year's New Music Festival at the Faculty of Music, University of Toronto with events January 23 through 29. Chen's Yangko is also included in Soundstreams Canada's January 25 concert "Tan Dun's Ghost Opera" at Koerner Hall.