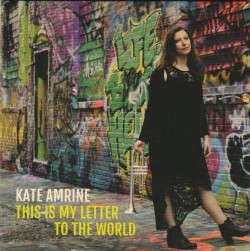 This is My Letter to the World
Kate Amrine and various artists
Innova Recordings 042 (innova.mu)
It is almost too apt to be reviewing trumpeter/composer Kate Amrine's new release in the COVID-19 era. Whatever new power music has developed within our collective, it has always drawn us into shared experience. This message from a millennial asks all of us to please reflect on the harm we bring on ourselves. How can the tracks of this disc bend our path away from mutually assured destruction, one is forced to wonder. One supposes: through hope.
Amrine's own piece, What Are We Doing To Ourselves, addresses climate change and degradation through a combination of electronic underlay made of the recorded sound of a forest fire, simple melodic fragments that join the voices of alto flute, trumpet, viola and cello, and an almost childlike recitation of the text of a suicide note. This latter document was left for media by an activist lawyer who set himself on fire in an act of protest. Heavy stuff. Her very short title track eloquently quotes Emily Dickinson with a bucket-muted trumpet nearly overshadowing the text.
The next track, Thoughts and Prayers, by Kevin Joest, addresses gun violence. A single trumpet line accompanies all-too-familiar news chatter reacting to various mass-murders. My Body My Choice by Niloufar Nourbakhsh, uses the words of the title in a chant rising towards the final bars of a processional featuring trumpet and electronics.
Sandwiched in among the earnest messages is a clever and entertaining track (omitted in the liner notes): Close Fight sets up a funky dance number using a post-fight interview with a boxer whose cocky answers are chopped into rhythmic bits, and played to by the band. This is such an excellent antidote, it's why we need to support these young creators like Amrine. I wanted it to go on. We all need it, to go on.