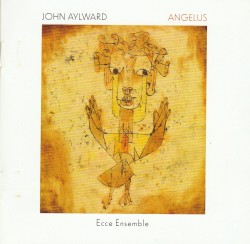 John Aylward – Angelus
Ecce Ensemble; Jean-Phiippe Wurtz
New Focus Recordings FCR261 (newfocusrecordings.com/catalogue/john-aylward-angelus)
The title of John Aylward's recording Angelus is derived from its Christian incipit – those first few words of the text: Angelus Domini nuntiavit Mariæ (The Angel of the Lord declared unto Mary). Perhaps the angels called upon by these ten musical prayers are in fact more ancient mystical creatures of the Abrahamic Universe; or an even older one. No matter which you choose to believe – and even if you do not "believe" – otherworldly visions of your own are bound to ensue upon listening to this exquisitely ethereal music.
Aylward's Angelus is a series of reflective supplications and declaratives. They are prayers and inner meditations on, or with, spirit beings, albeit in the material world. They are also dialogues and existential arguments with the spiritual self. The composer makes no effort at all to disguise this in these works. In being drawn to this kind of contemplation, Aylward – like Luciano Berio – explores complex interactions of music and text; of recitation, singing with unusual and often complex instrumentation.
Vocalist Nina Guo's performance is wonderfully sprite; at times even marvellously deranged. Her declamatory cries in Angelus Novus and metaphorical conjuring in Dream Images is absolutely breathtaking. Meanwhile, the performance of the Ecce Ensemble is an inspired one. Their musicians intertwine their individual sensuous utterances playing winds, reeds, strings and percussion to make Aylward's ghostly compositions shimmer with something resembling an extraordinary awakening of real and imagined beings in the flesh and in the spirit.