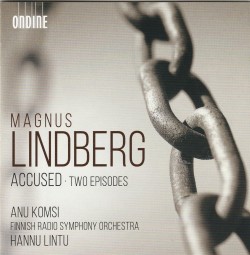 Magnus Lindberg – Accused; Two Episodes
Anu Komsi; Finnish Radio Symphony Orchestra; Hannu Lintu
Ondine ODE 13452 (naxosdirect.com/items/magnus-lindberg-accused-two-episodes-534964)
Nothing much happens in Finnish composer Magnus Lindberg's song cycle Accused. During the French Revolution a protester fighting for freedom and equality is asked by her jailer how she is doing. In the midst of the Cold War an East German citizen is grilled by the secret police about reading the popular West German news magazine Der Spiegel. More recently, in the trial of WikiLeaks whistleblower Bradley (now Chelsea) Manning, a prosecution witness is cross-examined about Manning's idealism.
The texts, in French, German and English, are taken from transcripts of actual interrogations. At odds with their matter-of-fact banality, the music packs a real punch. All six roles are sung with relentless theatricality by the virtuosic soprano Anu Komsi. Canadian soprano Barbara Hannigan gave the world premiere in London in 2015, and Komsi sang the North American debut in Toronto two years later in a memorable concert with the Toronto Symphony, one of six co-commissioners.
The versatile Finnish Radio Symphony Orchestra, led by Hannu Lintu, gives a dynamic account of the dangers lurking beneath the ominous orchestral textures. But there is hope – in the resilient pizzicato strings, the defiant brass fanfares, and, at the end, the sublime vocalise with the soprano abandoning words altogether. It's a brilliant coup de théâtre.
Lindberg wrote Accused in 2014, but its timeliness is uncanny. Here it has been effectively paired with Lindberg's inventive Two Episodes, written two years later. Fortunately, texts and translations are included.