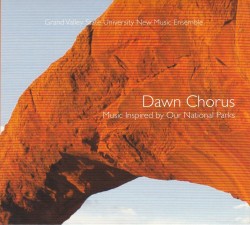 Dawn Chorus
Grand Valley State University New Music Ensemble
Innova Recordings 044 (innova.mu/albums/grand-valley-state-university-gvsu-new-music-ensemble/dawn-chorus)
Since 2014, the New Music Ensemble at Grand Valley State University (Allendale, MI) under director Bill Ryan has commissioned 20 American composers to respond musically to U.S. national parks, with the ensemble subsequently touring to perform at these sites. In their fifth release, the eight astoundingly talented student musicians perform 11 of these commissioned works.
The musical styles travel across many musical paths. Title track Dawn Chorus by Phil Kline features birdsong-like flute, clarinet and flamboyant glockenspiel parts in slightly atonal counterpoint, emulating springtime early morning birdsong in Badlands National Park. More Badlands inspiration as Bite the Dust composer Molly Joyce uses faster, slightly dissonant piano pulsing, loud, full-orchestration held notes and descending intervals to describe its disappointing land erosion.
Repeated low dark atonal pitches and circular minimalist fluttering flute star patterns recreate Arches National Park's night sky drama in former GVSU ensemble member Ashley Stanley's Night Sketches. Patrick Harlin's more traditional Wind Cave, inspired by Wind Cave National Park, features wind sounds painted by rapid violin swirls, tonal orchestral melodies and closing ripples. Big fun sound surprise in closing track Canvas the Bear, as composer Niko Schroeder sonically recreates a childhood sighting of a Yellowstone Park bear while riding in his granddad's jeep, using jazz/pop melody overtones, toe-tapping bear-walking rhythms, and unexpected ensemble one-two-three-four mid-piece vocal count.
Works by Biedenbender, Deemer, Herriott, Gardner, Matthusen and Biggs complete this nature-inspired sound painting release.