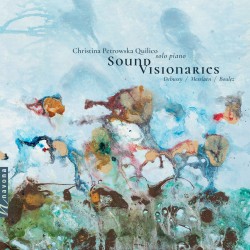 Sound Visionaries
Christina Petrowska Quilico
Navona Records nv6358 (navonarecords.com)
Retro Americana
Christina Petrowska Quilico
Navona Records nv6361 (navonarecords.com)
With over 50 recordings and a storied record of critical acclaim, veteran piano virtuoso Christina Petrowska Quilico delivers yet another reason why she is regarded as one of the most celebrated interpreters of 20th-century music. The listener is treated to surprisingly original interpretations of frequently recorded selections such as Debussy's second book of Preludes and Messiaen's Vingt regards sur l'enfant-Jésus. The pianist's attention to detail and delicate approach to phrasing are unparalleled.
The piano sonatas of Pierre Boulez are considered among the most difficult among the solo piano repertoire of the 20th century. In Petrowska Quilico's recordings of the first and third sonatas of Boulez, the virtuoso's dynamic command over this highly demanding music produces an assertiveness that undoubtedly will become compulsory atop the list of many recordings of this music. Incidentally, Petrowska Quilico was coached by Boulez before her performance of the first sonata at the presentation of the Glenn Gould Prize to Boulez in November 2002.
On her most recent release, Petrowska Quilico brilliantly tackles solo American repertoire from throughout the 20th century. With some rarely performed selections such as Henry Cowell's Six Ings and Bill Westcott's Suite combined with some more recognizable titles by Rzewski, Tatum and Gershwin, Petrowska Quilico is able to provide an impressive recital highlighting her technical command over varying styles.
There are four selections by composer Meredith Monk – each unfolding as the true gems on the disc. These four pieces reveal the highly compelling originality of the composer – a voice that seems to lend itself to Petrowska Quilico's performance sensibilities with a bewildering ease and effortlessness – an expressive attribute that will enchant the listener.
This release is yet another statement from a restless virtuoso who has a seemingly inexhaustible ability to provide gripping interpretations of the music of our time.