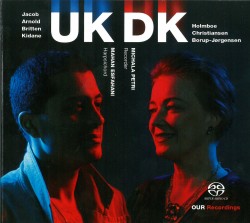 UK DK
Michala Petri; Mahan Esfahani
OUR Recordings 6.220611
Another offering from Danish recorder player Michala Petri's own label, this disc serves up a smorgasbord of modern-era music from Denmark and Britain, played by Petri and Tehran-born, London-based harpsichordist Mahan Esfahani. It's to be much appreciated that Petri remains so committed to the commissioning, performance and recording of new works for the recorder.
Off the top, Malcolm Arnold's Sonatina reveals the interpretive unity and precise ensemble which make this such a successful duo, and the six little movements of Benjamin Britten's Alpine Suite receive the best performance they've probably ever had. Gordon Jacob's Sonatina and Encore are quite beautiful, but marred a little by some pungent tuning on the alto recorder. (That said, when Petri plays at blistering speed or sings a counter melody along with herself, she's right on the Cleartune money.)
Given the title of Henning Christiansen's piece – It's Spring – one might expect the recorder to be typecast in its centuries-old role of bird imitator par excellence; and indeed it is, with the addition of some harpsichord bumblebee imitation. The aleatoric, post-modern angst of Daniel Kidane's Tourbillon and Axel Børup-Jørgensen's Fantasia provide a different mood and are very welcome here. Along with Vagn Holmboe's Sonata, they also strike a more equal musical partnership between the two instruments than much of the other music. Mahan Esfahani's playing is a real delight and I find it a little sad that the harpsichord parts here don't all make better use of him.