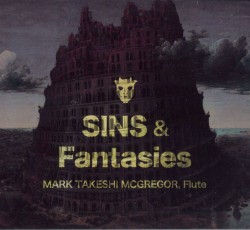 Sins & Fantasies
Mark Takeshi McGregor
Redshift Records TK430
(redshiftmusic.org)
What a brilliant conceit – seven pieces, each by a different living Canadian composer, and inspired by the Seven Deadly Sins. Beginning in 2010, Vancouver-based flute virtuoso Mark Takeshi McGregor gave life to this project, and the results are gloriously presented here. The disc begins with Dorothy Chang's Wrath, a hissing, spitting and raging exploration of tone, breath and vocal sound, followed by Gregory Lee Newsome's Avarice and Owen Underhill's Three Reflections on Pride which employ flute, piccolo and alto flute. Jocelyn Morlock's take on lust makes exquisitely erotic use of the alto flute, McGregor's voice, and words from a 20th-century icon which completely spooked me out. James Beckwith Maxwell's Invidere (envy) wanders into the far reaches of extended techniques, and Benton Roark's Untitled gives a meditative and melancholy spin to sloth.
In all these, McGregor's remarkable gifts as a player are mesmerizing. Besides his extraordinary technical mastery, his is playing of the most imaginative and creative kind. And to top it off, the disc closes with McGregor's own Le dernier repas de M. Creosote, inspired by the infamous Monty Python character and an absolute tour de force any way you slice it. Three of Telemann's Fantasias are also included as foils to the new pieces; for me, McGregor's sense of musical adventure here pales in comparison. But no matter: as Chaucer says in The Parson's Tale, the deadly sins "all run on one Leash, but in diverse manners," and here their diversity is astonishing, inspiring, and only dangerous in the best possible way.