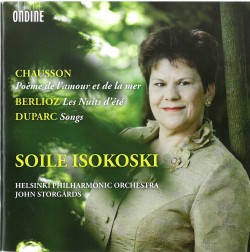 Chausson; Berlioz; Duparc
Soile Isokoski; Helsinki Philharmonic; John Storgårds
Ondine ODE 1261-2
Review
Soile Isokoski was in Toronto last summer mentoring a program for young singers at Toronto Summer Music. It is good to have this new disc. The main work here is
Les nuits d'été
by Berlioz. These songs were originally published as a set for mezzo-soprano or tenor with piano accompaniment. Later Berlioz orchestrated the songs and in some cases changed their keys, making them more suitable for several singers in different voice categories. There is a modern recording conducted by John Eliot Gardiner (on Erato) which uses five different singers, including the Canadian mezzo Catherine Robbin. I myself am very fond of Janet Baker's recordings, both the 1967 performance with Sir John Barbirolli (EMI) and the 1975 performance with Carlo Maria Giulini (BBC). It took me a while to get used to Isokoski's interpretation, especially in the first song,
Villanelle
, where Baker is more impressive in giving a sense of ecstasy and where the words are much easier to follow. I think the latter point has a lot to do with the high keys in which Isokoski sings and in general I think these songs work better when performed by mezzos. But Isokoski's renderings have their own merits and she is especially good in the middle songs,
Sur les lagunes
and
Absence.
The Duparc songs were written for voice and piano and I don't particularly care for the orchestration, first performed in 1897. Isokoski is at her best in Chausson's somewhat Wagnerian Poème de l'amour et de la mer. She is generally described as a lyric soprano but she also has the fullness of sound needed to override Chausson's orchestral textures.