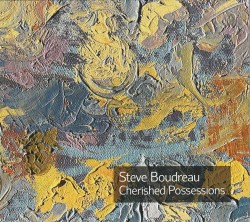 Cherished Possessions
Steve Boudreau; Adrian Vedady; Jim Doxas
Independent (steveboudreaumusic.com)
Listen
Cherished Possessions
Words of Hope
Rolling Oil
Read the Review
Gifted Ottawa-based pianist/composer Steve Boudreau has just released his first trio recording of primarily his own music, and has also realized his dream of recording with two of Montreal's finest jazz musicians: bassist, Adrian Vedady and drummer, Jim Doxas. Boudreau had just completed a five-volume solo piano recording project, when he was compelled to begin this exciting trio album. There are ten intriguing tracks here – including two contributions from the diverse artists, Wayne Shorter and Björk. The recording was completed in a single remarkable day – as so many of the finest jazz recordings have also been made. The resulting energy, creativity and spontaneity are palpable in every track.
The title track is imbued with contemporary lyricism, expressed in Boudreau's exquisite piano sound, attack and ideas. Doxas and Vedady are nothing short of luminous – engaging with each other and Boudreau on a psychic and spiritual level. Vedady's solo here explores the many tonal colours of the bass, and Doxas impeccably uses his kit and cymbals as an extension of his emotional expression. Other stand-out tracks include Words of Hope – a sensuous, laconic ballad, filled with warmth and delicious chord progressions; For Staff Only – a Monk-ish trip into the free zone; and Rolling Oil – an up-tempo cooker where the trio shines again. Boudreau's technical chops are quite breathtaking here, inciting every nuance to feel effortless and natural.
Of special mention is the trio's masterful take on Shorter's Go, framed by Doxas' exquisite percussive choices, and the potent closer, Charlie's Family Reunion, which captures the pure joy of making music with skilled, like-minded souls. This project is one of the finest trio jazz recordings that I have been privileged to experience in many a moon.