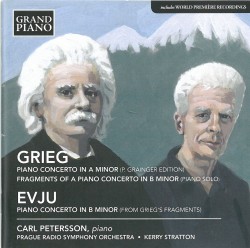 Grieg & Evju: Works for Piano
Carl Petersson; Prague Radio Symphony; Kerry Stratton Orchestra
Grand Piano GP689
Review
The following is an excerpt from Keyed In (December 2015) which can be read in its entirety here.
The recording Grieg; Evju – Piano Concertos (Grand Piano GP689) offers a performance of Grieg's familiar work but based on subsequent changes to the manuscript made by the composer and his friend Percy Grainger. The casual listener may not detect the revisions but they are occasionally evident in the piano part where familiar chordal structures appear to have been changed.
The recording is remarkably clear. The Prague Radio Symphony under Canadian Kerry Stratton is not especially large but always sounds full and balanced. Pianist Carl Petersson performs beautifully and seems especially committed to this revised edition.
The other work on the disc is a concerto based on a thematic fragment by Grieg. It's a bit of an oddity but warrants several hearings before moving into the concerto that Helge Evju has crafted from it. Although in five movements, the work's performance time is only 20 minutes. It contains many strong allusions to the A-Minor concerto. That work is said to have been one of Rachmaninov's favourites and curiously, one also hears a few passages that are obviously reminiscent of his piano concertos.
Overall it's a wonderful and unusual recording. The orchestra and pianist are excellent.